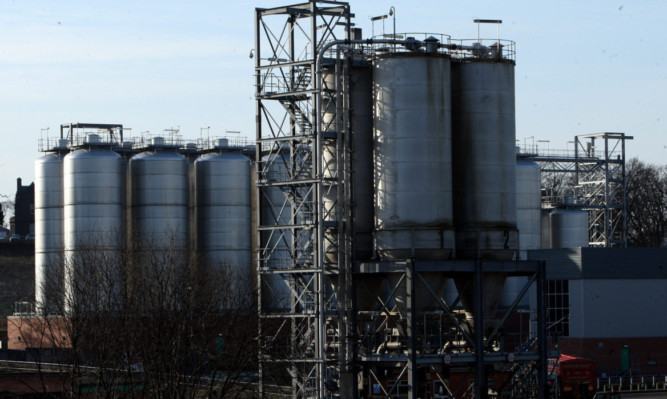 DRINKS GIANT Diageo has raised the prospect of group-wide job losses as it announced plans to save £60 million a year through an overhaul of its worldwide supply chain.
The firm behind brands including Guinness, Smirnoff and Johnnie Walker revealed a £100m restructure of its global procurement and supply operations, prompted by increasing exposure to growth markets in South America, Eastern Europe and Africa.
But the company which employs more than 25,000 people across 80 countries, including around 1,200 in Fife also admitted the cost-cutting measure was "likely" to affect its workers.
Asked what impact the move would have on the company's operations in Scotland, a Diageo spokesman would only say it was too early to speculate on the local effects of the corporate savings programme.
The firm last year announced a £1 billion investment in the whisky industry, also opening a new £86m bottling operation in Leven and revealing plans for a new £150m bonded warehouse at Begg Farm near Kirkcaldy.
Yesterday, it said "further work" would be required to establish the exact nature of the reorganisation expected in its 21 key national markets but added that "efficiency-driven cost savings" had been identified in an initial review, alongside changes to the company's footprint and regional supply arrangements.
"Diageo has announced its global supply and procurement operations will be refocused to enhance alignment between global supply and Diageo's 21 key markets," the company said in a statement.
"Responsibility for local operations will be transferred to the markets and regional structures will be reduced.
"The global supply organisation will continue to be responsible for ensuring functional excellence across all operations.
"This refocus follows the 2011 operating model review and is a consequence of Diageo's increasing presence in new faster growth markets."
Diageo which reported annual revenues of £14.6bn and pre-tax profits £3.1bn in the year to June said it expected that the plan would yield annual savings of £60m by the end of the third year, with the cost of completing the restructuring estimated at around £100m.
"Further work will be required to establish the exact nature of the reorganisation but there is likely to be some impact on employees," it added.
"Therefore, as decisions are made, these will be shared with our employees and their representatives first and foremost."
Diageo hopes that localising its supply chain will create savings by reducing the cost burden of its existing global procurement operation.
It said the move came "as a consequence" of an increasing presence in new, faster growth markets in the last 18 months, Diageo has snapped up interests in Turkish, Vietnamese and Chinese spirit producers, breweries in South Africa and Ethiopia, and Brazilian Cachaca brand Ypoica.
The swelling of the middle classes in developing nations has led to a spike in consumption of prestige and premium drinks in those high-growth markets, whether local or imported.
Meanwhile, Scotch Whisky exports are now comfortably worth more than £4bn a year, with Asian and Latin American nations increasingly important customers.
Diageo is also waiting for regulatory approval on a £1.3bn deal to take a majority holding in India's United Spirits, which owns Glasgow distiller Whyte & Mackay.
The announcement came as the drinks firm restated its FY2012 results under a new set of geographical headings, following its operational review.
From June, it will split reported results for Europe into two distinct segments, combining the high-growth Eastern European and Turkish division with African markets and allowing Western Europe to operate as a stand alone territory.
business@thecourier.co.uk