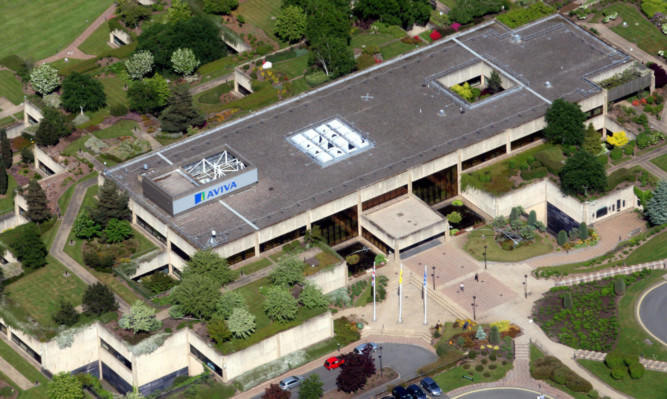 Insurance giant Aviva is to buy rival Friends Life in a deal worth £5.2 billion, but there are fears that the move could lead to 2,000 jobs being axed.
The two companies confirmed details of the merger a week after disclosing that they were in advanced talks about creating the UK's leading insurance, savings and asset management business by number of customers.
The addition of Friends Life will extend Aviva's customer base from 11 million to 16 million and is "financially and strategically compelling", according to Aviva chief executive Mark Wilson.
He added: "It is one of those rare transactions where the two organisations fit with surgical precision, building on each other's strengths and addressing the challenges."
Aviva has 1,000 employees at Pitheavlis in Perth, where general insurance staff are predominantly engaged in household claims business.
The site was the setting for a previous reorganisation after the company closed its Dundee office at the technology park.
Asked if the merger would threaten any jobs at Perth, the company said an integration plan is being compiled and this may involve headcount reduction.
"Finalisation of the integration plan will be subject to engagement with appropriate stakeholders, including employee representative bodies and unions," said a spokeswoman, who added that it was too early to comment on staffing implications.
Mr Wilson warned that the tie-up, which is expected to generate annual cost savings of £225 million by the end of 2017, will result in headcount reductions.
Aviva employs around 28,000 staff worldwide, including 12,000 in the UK, while Friends Life employs 3,500 staff largely in offices in London, Manchester, Bristol and Salisbury. Aviva's main UK sites are at York, Norwich, Sheffield and Glasgow.
Friends Life was created in 2011 following the amalgamation of Friends Provident, the majority of Axa UK Life and Bupa Health Assurance.
The businesses were rebranded to form Friends Life Group, providing pensions, investments and insurance and retirement income products.
The group can trace its roots back to the 1800s as the Sun Life Assurance Society formed in 1810 and Friends Provident, which was formed in Yorkshire in 1832.
Under the terms of the proposed all-share offer, Friends Life shareholders will own about 26% of the enlarged group.
Aviva's fortunes have recovered under Mr Wilson, who took charge nearly two years ago after predecessor Andrew Moss was ousted in the wake of a humiliating shareholder revolt over his pay and the faltering pace of the business.
Mr Wilson has cut hundreds of jobs and disposed of several businesses as part of his turnaround strategy.
Friends Life's strong level of cash generation £2bn a year from its UK pensions business is seen as a key motivation for the deal as this should help accelerate growth of Aviva's dividend.
Friends Life shares closed the day up 8.9p at 375.1p.
Shares in Aviva rose 0.6p to 500p.