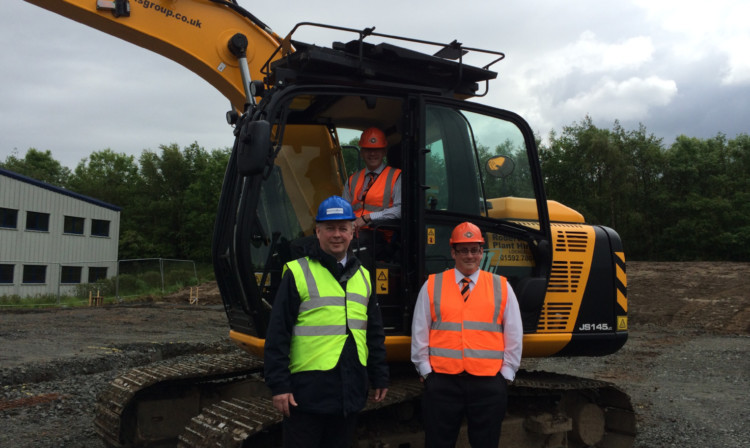 A Fife security and safety services firm is set for major expansion after breaking ground on new £750,000 business premises.
Dunfermline-based Eclipse IP, which counts Celtic Football Club among its client base, is hoping to double turnover to more than £2 million a year once it has completed a move into new purpose-built premises in Rosyth later this year.
The firm supplies a range of security systems, typically high-definition CCTV installations, and can also provide off-site monitoring services and energy saving solutions for clients which span both private businesses and institutions such as St Andrews University.
Managing director Neil Alexander, who co-owns the firm alongside technical director Stephen Ripley, said the firm which has already outgrown two premises since it was founded seven years ago had reached an "important moment" in its development.
He said the new investment, which is being supported by a regional selective assistance (RSA) grant from Scottish Enterprise, was designed to give Eclipse the platform it required to support its long-term growth plans.
"At the moment we are turning over just over a million (pounds per year)," said Mr Alexander.
"Our plan over the next three years is to double that figure, and I think that is very achievable as we have quite a few unique offerings to the market."
Eclipse has a 31-strong workforce in roles ranging from admin to sales to engineering, but the new-build investment has seen the firm recruiting for new posts including staff for its new dedicated monitoring station a facility which will be used to keep a round-the-clock eye on clients' premises.
"The RSA commitment we made was that we were going to create 12 new positions of employment this year," Mr Alexander said.
"We have already brought a few of these people in, and I would expect a similar level of new positions in 2015.
"Because we will be able to do almost everything from the new building in Rosyth, the employment and investment will be locally in Fife and the Scottish economy."
The construction of Eclipse's new 3,100ft2 premises is being overseen by Dunfermline-based Cameron Harris Design & Build.
Director Ewan Cameron said it represented the first new-build office project by a locally based company in Fife for four years.
"This development is testimony that the green shoots of economic recovery are happening," Mr Cameron said.
"This project has taken several years of hard work from ourselves and Neil and his team to bring to fruition and it is great to see the rewards from all of these combined efforts, and we are hoping that this is a sign that the confidence is returning to the commercial construction sector."