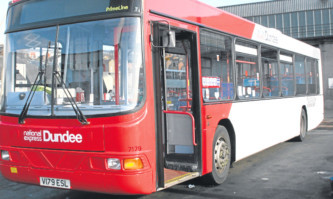 ScotRail bidder and Dundee bus operator National Express has outlined how cost efficiencies helped it to "positive progress" during the first half of 2014, despite falling revenues and profits.
The group which runs transport operations in the US, Spain and Morocco, and has recently been named as preferred bidder on an "exciting" new deal in Bahrain upped its interim dividend by 3% to 3.35p after claiming the operational-excellence part of its new strategy was "driving improved performance".
It said revenues rose 2% on an underlying basis, but currency conversion saw the half-year total slide to £939.5 million from £956.7m a year ago, including a 3.2% rise in sales in the UK Bus division.
Pre-tax profits slumped almost a third to £23.4m on the same basis, hampered by exceptional charges related to the restructuring of contracts in the firm's North American school bus business, a major shake-up of operations in Spain, and a buyout of part of one of the company's UK pension schemes.
The group also disclosed a "restructuring of driver, engineering and overhead operations" in the UK, which will also help to generate £2m in cost savings during the financial year and boasted of how real-time monitoring through new "vehicle-tracking" technology had reduced the number of cancelled journey miles.
Results for the six months to the end of June were published just hours after union leader Doug McGuire said that Dundee bus drivers were being pushed to breaking point by a shortage of staff at National Express' city depot on East Dock Street.
But the company said it had been hit by illness and remained in the midst of a major recruitment drive. It also rejected claims that transport requirements for the Commonwealth Games shooting events at Barry Buddon by Carnoustie had placed further strain on local services.
The National Express group yesterday said its aims also include greater cash generation and a boost to shareholder returns. It said it has paid down £80m in debt over the last 12 months to take the figure to £729m.
It also hailed its success in the winning of new contracts including the c2c Essex Thameside rail contract which it says will generate revenues running to £5 billion over their lifetime. A bid to take on the ScotRailcontract is under examination by Scottish Government officials.
Chief executive Dean Finch reminded markets that the firm had already warned that extreme weather and industrial action in the US and Spain respectively would impact on results.
"We have made important progress in the first half of the year," he said.
"Our success in retaining the Essex Thameside rail franchise confirms our long-term future in UK rail.
"Other major contract successes across the group demonstrate the quality of our services and strength of our reputation in the markets we serve. Our strong cash generation remains a highlight and a particular focus of the business this year.
"We also have a strong pipeline of further opportunities with many bids being evaluated at present, including ScotRail and a number in German rail."
He said the Bahrain deal had the potential to open growth markets in a quickly urbanising Middle East, and added that the company was "well-placed" to deploy its experience in Spain and Portugal when markets there are opened to greater competition.
Stock in the firm closed the day up 1.64% or 4.20p to 260.90p.