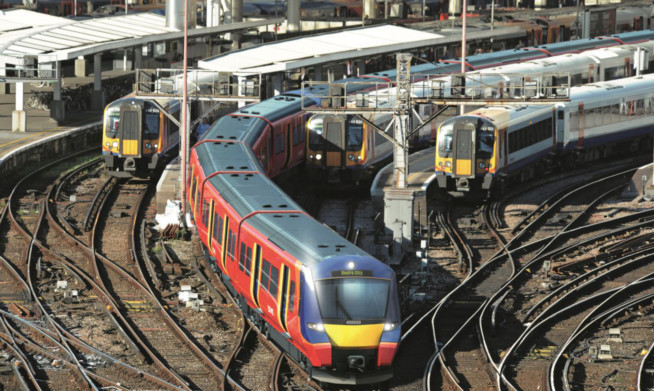 Perth-based public transport giant Stagecoach Group has sanctioned a £210 million new train order to boost capacity on one of the UK's busiest rail networks.
The massive contract for 30 new five-carriage Desiro City trains has been placed with manufacturer Siemens and rolling stock leasing company Angel Trains.
The first of the 150 new German-assembled rail carriages is expected to come into service on Stagecoach's South West Trains (SWT) franchise in 2017, with the remainder in place a year later.
The new trains – which will eventually boost capacity on the line into London Waterloo by 18,000 passengers a day – is in addition to an ongoing £65 million investment being made by the group in more than 100 additional refurbished carriages for the SWT franchise.
The move to increase the rolling stock is set to create 140 new jobs and will also necessitate major infrastructure works at Waterloo, including the reopening and lengthening of platforms.
"The combination of investment in the infrastructure and these new trains will create space at Waterloo that is the essential first step to allow an increase in capacity for our longer distance, mainline services," SWT-Network Rail Alliance chief executive Tim Shoveller said.
"The unique Alliance between South West Trains and Network Rail means that we have been able to work together to deliver an effective and value for money solution to a complex challenge that also involves major infrastructure improvements at the UK's busiest station.
"This is a great example of one of the major benefits that can be offered by working in partnership and it will ultimately deliver capacity for over 24,000 additional peak-time passengers every day."
Stagecoach yesterday said the formal contract award was currently subject to a standard standstill period but said it was expected to complete within the next few weeks.
An amendment to the SWT franchise agreement is also being made as a result of the investment.
Steve Scrimshaw, Managing Director, Siemens Rail Systems, said the new Desiro City trains would be the most modern rolling stock in operation in Britain.
He said: "No other train in the UK is as technologically advanced and offers as many benefits in terms of passenger environment, capacity and reliability.
"This is a clear example of our country, the Department for Transport and the South West Trains Network Rail Alliance leading the way, responding to passenger needs and network growth and making a significant investment into the future."
Malcolm Brown, CEO of Angel Trains, said his company would procure and lease the Siemens Desiro City Trains to Stagecoach SWT.
He said: "Investment in new carriages for South West Trains helps to alleviate further strain on the capital's rail network for the next 10-15 years."