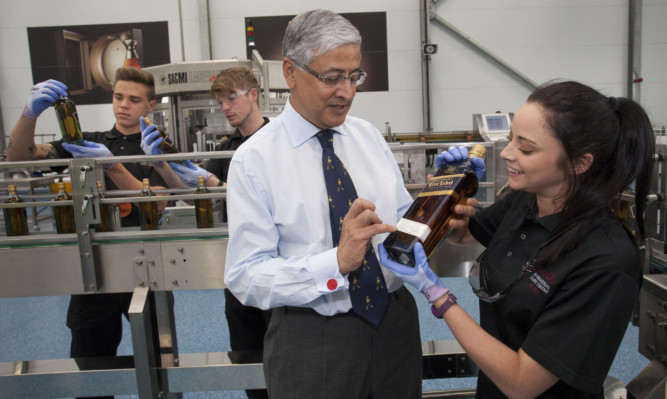 The chief executive of Diageo has proclaimed the future of the Scotch whisky industry is in "good hands" after a visit to one of the drinks giant's major Fife facilities.
Ivan Menezes met a number of apprentices during his tour of the firm's luxury products packaging plant at Leven.
The facility, which handles more than 37 million cases of spirits including Smirnoff vodka, Johnnie Walker whisky and Tanqueray gin, employs more than 900 staff and offers a number of trade apprenticeships.
Mr Menezes who has led Diageo since July 2013 met apprentice electrical engineers Letitia Miller, 24, and Luke Binnington, 18, during the site visit and also spoke with apprentice mechanical engineer David Paterson.
Diageo has 65 young people involved in its apprenticeship programme across Scotland and that number will swell by a further 18 over the summer as Diageo invest further in future talent.
"The quality of the people we are bringing into our business through our apprenticeship programme in Scotland is fantastic," Mr Menezes said.
"They are the future of our company and the Scotch whisky industry, and I know from the apprentices I have met that the future is in good hands."
Letitia Miller said gaining a place with Diageo gave her the chance to earn while she learned.
"The apprenticeship scheme not only gives you the skills to do the job, but it gives you the confidence to develop your career," she said.