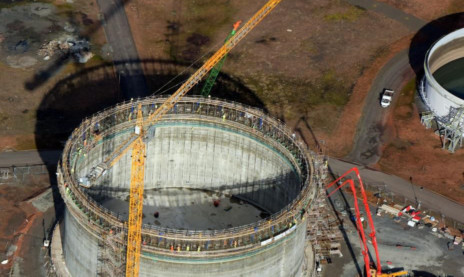 A delicate operation to top-out a massive new ethane storage tank at Ineos's Grangemouth petrochemicals plant has been hailed as a landmark for the site.
Engineers used three small industrial fans to increase the air pressure within the tank and slowly lift the 330-tonne roof from the floor into its final position.
The tank, which will hold 60,000 cubic metres of ethane when full, is the first major piece of infrastructure to be completed as part of a wider project which will allow shale gas imports to the UK from America.
Focus at Grangemouth will shortly turn to the import terminal infrastructure needed to allow ethane transported across the Atlantic aboard new-build 'Dragon Ships' to be safely transported ashore.
Total capital investment by Ineos in the project is circa $1 billion.
John McNally, chief executive of Ineos O&P UK, said the tank top-out took Grangemouth, which flirted with closure in 2013, a step closer to a return to the "premier league" of petrochemical plants.
While hailing the ambition of the US shale gas plan, Mr McNally was clear that Ineos was continuing to progress highly controversial plans to source shale gas from Britain.
Mr McNally said: "It is difficult to comprehend why we would not seek to supply our own manufacturing businesses in Scotland with a secure indigenous supply of gas from shale. A UK shale industry would deliver huge benefits to the country, creating jobs, securing skills, transforming manufacturing in Scotland and the rest of the UK."