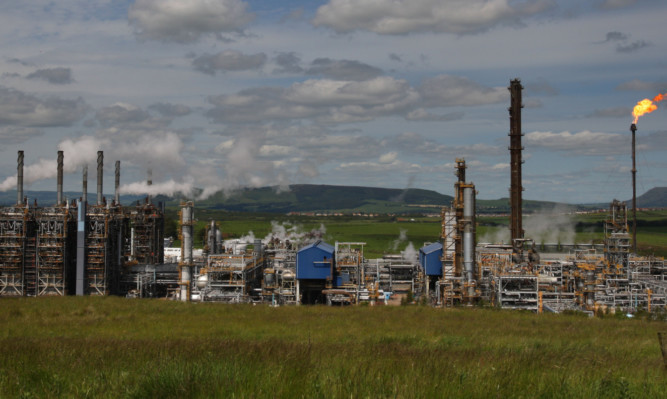 A new three-year Wood Group contract with Shell has secured 90 jobs in Fife.
The deal, for an undisclosed sum, covers the Mossmorran gas-processing plant and Braefoot Bay marine terminal.
It also involves the St Fergus gas processing plant in Aberdeenshire, where another 90 jobs are retained.
The Aberdeen-based group's subsidiary, Wood Group Industrial Services (WGIS), will provide fabric integrity maintenance and site support under the contract, which has the option to be extended for up to four years.
Effective immediately, the contract builds on Wood Group's 20-year history supporting the Shell assets.
WGIS managing director Hugh Pelham said: "This contract award is another example of Wood Group's ability to deliver safe, more productive services.
"We are committed to leveraging our robust knowledge of the facilities, and broad industrial services capabilities, towards the successful delivery of this contract.
"The onshore midstream oil and gas sector is a key growth area for WGIS.
"Our 43 years of experience providing specialist, high-quality industrial services, supporting the construction, maintenance, decommissioning and replacement of major industrial assets such as bridges, chemical plants, ships, oil rigs and power stations, positions us strongly to support clients in this sector."
The Aberdeenshire and Fife work is the second contract Wood Group has secured with Shell this year.
In January, Wood Group's Kenny subsidiary began a three-year specialist consultancy services contract for Shell Australia's Prelude Floating Liquefied Natural Gas project.
The international energy services group has around $6bn (£4.22bn) in sales and operations in more than 50 countries.
Earlier this month it won a $120m (£84.6m) contract to help Babcock International run sites in the UK which will help safeguard around 400 jobs.
The oil services giant said it will provide services ranging from applying protective coatings on structures to cleaning under the five-ear deal.
It did not disclose which sites will be covered.
Babcock manages the Clyde naval base at Faslane and operates Rosyth Dockyard where Queen Elizabeth Class aircraft carriers will be assembled.
Wood Group recorded a 14.5% fall in core profits last year with challenging conditions in areas including the North Sea, where there have been big cuts in workloads because of the oil price plunge.