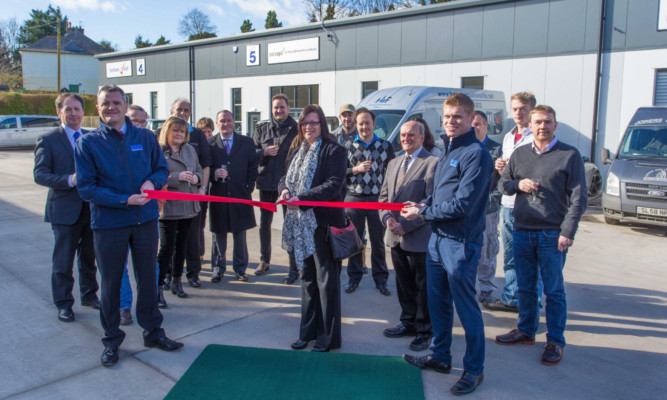 A £1.5 million investment to revitalise an ageing business park in St Andrews has secured at least 25 new jobs.
The rejuvenated Bassaguard Industrial Estate in St Andrews was only officially opened yesterday, but eight of the nine industrial units are already occupied.
The physical redevelopment of the site began in August 2013 and some of the units, the first new industrial spaces to be offered in the town for 20 years, were reserved off plan before construction work started.
Bassaguard is owned by Fife Council but the redevelopment was taken forward by Dundee-based Barnetts Properties Ltd, a holding and property development company which is the parent of vehicle sales business Barnetts Motor Group, after it negotiated a long-term lease for the site.
Among the tenants at Bassaguard are the St Andrews Brewing Company, Scotland for Golf, Home Innovations Fife and oil services company Solvapli Ltd.
Local restaurateur and businessman Tim Butler has also taken space at the site for his business management services venture.
"The location was always perfect for us but these new bigger and better units allowed us to be able to grow the company. To have a custom-made facility is perfect," Mr Butler said.
Barnetts Group chairman Paul Barnett said the redevelopment of Bassaguard has proven a great success, with strong interest from the local business community.
"I'm delighted we've been able to help so many companies maintain or create a presence in St Andrews and bring or secure jobs in the town," he said.
"Given our company's long-standing connection with St Andrews, it's great to be boosting it further.
"We understand this will at least safeguard 25 jobs, and I know two businesses are already planning to expand so there should be more to come.
"We're now looking forward to letting the final unit.
"Demand was so strong that once we completed Phase 1 we pushed ahead with finishing the build."
Fife depute council leader Lesley Laird said the redevelopment showed the authority's commitment to making the region a good place to do business.
"This development will make an important contribution to the local economy in St Andrews by addressing a significant shortage of modern business space in the town," she said.
"The council promoted the site through a competitive bidding exercise and is now delighted to see the completion of the development.
"It is very encouraging to see such a diverse range of businesses already having secured accommodation in the development, and we wish them every success," she added.