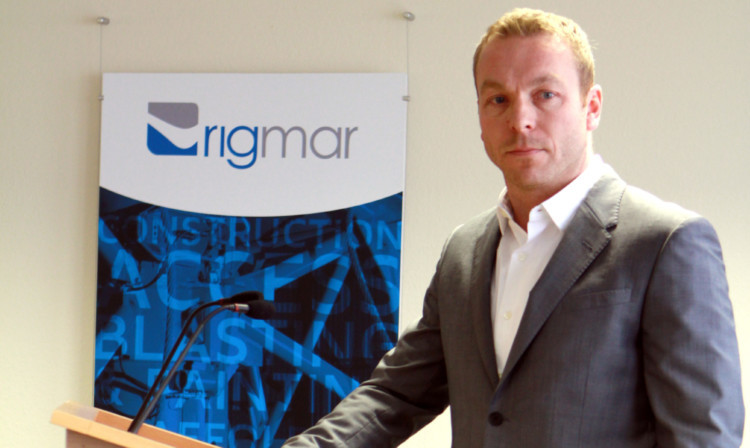 Cycling legend Sir Chris Hoy rode in to town to officially open the £2 million Dundee fabrication plant of energy services group Rigmar.
More than 100 guests from the rig repair, subsea, petrochemicals and process industries joined the six-time Olympic champion at Rigmar House at the Port of Dundee for Thursday's event.
The firm first moved to Dundee in 2012 after acquiring Riverside Engineering and has since grown its presence significantly and now occupies a site extending to 15 acres at Prince Charles Wharf.
Rigmar Fabrications managing director Gary Mitchelson, a former competitive cyclist himself, welcomed Sir Chris to Dundee.
He acknowledged that Rigmar's base at the port was not yet world class in nature, but said the firm was on a mission to significantly upgrade all aspects of the size.
"What we want to show you is the vision of where we are going," Mr Mitchelson told guests. "We are going from fairly humble beginnings to a world-class provider of services."
Mr Mitchelson said the company was on an upwards trajectory and said the Dundee fabrication plant was supporting the wider economy in the process.
He said: "It is of tremendous benefit, not just to the people at Rigmar but to Dundee and to Scotland."
The firm has plans to invest a total of £15m in the Dundee site and Sir Chris was brought up to speed with the improvements which include a state-of-the-art projects office at Rigmar House, a messing site, new canteen and permit and safety offices.
Guests were given the chance to see the plant and clamber up to the roof of Rigmar House for a wider view of the port.
Rigmar group managing director Robert Dalziel said: "The foundation of the Dundee plan is well under way at Prince Charles Wharf.
"As part of this investment, we secured occupancy of two fabrication workshops, blasting and painting facility, exotic materials workshop and storage facility, with a further dedicated piping workshop soon to be added."
Rigmar said it expected to increase turnover across the group, which also operates out of sites in Aberdeen and Invergordon, to £60m this year through a mixture of organic growth and strategic acquisitions.
Sir Chris, who gave a presentation on the highlights from his sporting career before answering questions on subjects ranging from his decision to retire before the Commonwealth Games to his diet, wished the company well for the future.
Mr Dalziel said the event had been a "great opportunity" to reinforce to employees within Rigmar just how far the company had come in a relatively short period of time.