London's top index finished higher despite a "choppy" session as it was supported by strong commodity prices.
Banking stocks also had a more positive day after a solid update by Lloyds helped to improve sentiment after weakness earlier this week.
The FTSE 100 moved 0.33%, or 24.64 points, higher to finish at 7,414.34.
Michael Hewson, chief market analyst at CMC Markets UK, said: "The FTSE 100 has been helped by reports from Beijing that China would be stepping up spending plans on infrastructure to generate an economic bump in Q4 which has lifted metals prices, and ergo mining stocks, with Rio Tinto and Glencore higher.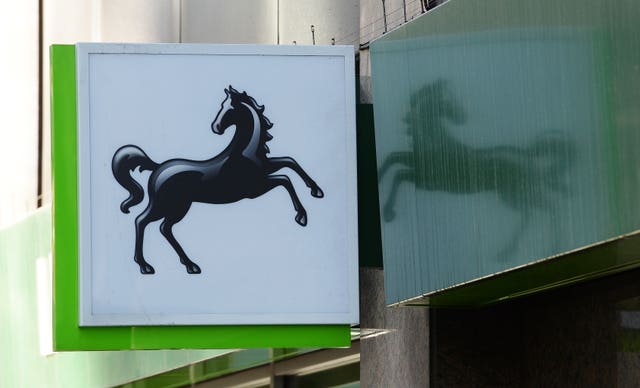 "It's been another day of choppy trading for markets in Europe with the latest company results indicating a range of fortunes for various businesses over the last quarter.
"Wednesday's bias remained very much tilted towards the downside with a distinct risk off tone, with US markets pulling Europe briefly into the red in the afternoon session."
The Dax index was 0.08% higher for the day at the close and the Cac 40 closed up 0.31%.
Across the Atlantic, the main markets opened lower but then swung upwards as investors were boosted by strong figures from Microsoft.
Meanwhile, sterling dipped as cautious investors bought into the dollar once again.
The pound was down O.18% at 1.213 US dollars and was 0.08% lower at 1.146 euros at market close in London.
In company news, Lloyds closed higher after it reported rising profits on the back of higher borrowing costs.
The lending giant, which also owns Halifax and Bank of Scotland, reported a pre-tax profit of £1.9 billion for the three months to September, beating analysts' expectations and more than tripling the revised £576 million made last year.
As a result, it witnessed a 0.89p rise in shares to 41.46p.
Elsewhere, Dettol manufacturer Reckitt Benckiser slipped after its sales for the third quarter missed analyst expectations.
The household goods giant also revealed plans to return £1 billion to shareholders through share buybacks as its new boss said there was room to "sharpen and improve" under a strategy overhaul.
Shares in the business finished the day down 238p at 5,678p.
RWS Group was a heavy faller after the language technology and intellectual property business missed revenue expectations in the face of "reduced activity". It was 42p lower at 196p at the end of trading.
Virgin Wines shares went sour after the online retail business fell to a loss on the back of lower sales. Shares declined by 5p to 36p.
The price of oil was broadly steady after three days of consecutive losses, with trading still cautious in the face of tensions in the Middle East.
A barrel of Brent crude rose by 0.09% to 88.4 US dollars (£72.82) as markets were closing in London.
The biggest risers on the FTSE 100 were: Lloyds, up 0.89p to 41.46p; Rio Tinto, up 97p to 5,157p; Bunzl, up 51p to 2,850p; BAE Systems, up 18p to 1,095.5p; and Sage Group, up 14p to 964.8p.
The biggest fallers on the FTSE 100 were: Ocado, down 47.6p to 460p; Reckitt, down 238p to 5,678p; JD Sports, down 2.75p to 126.2p; Segro, down 14.6p to 685.4p; and Vodafone, down 1.54p to 73.9p.