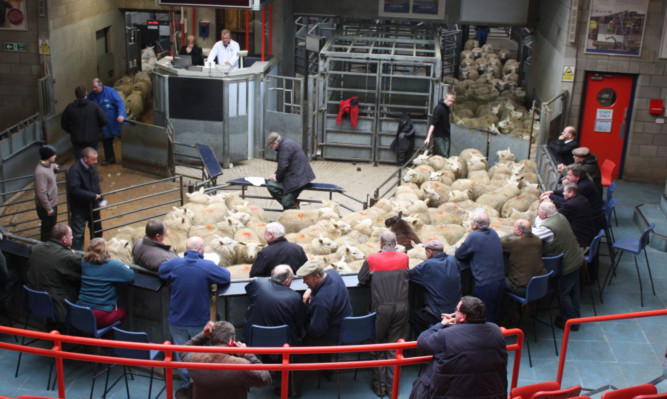 The continued slow rise in prime lamb prices over the past month has now resulted in farm-gate prices very similar to, and in some cases slightly ahead of, last year, according to the latest analysis by Quality Meat Scotland (QMS).
The number of lambs reaching the market is very similar to last year's levels but, observed Stuart Ashworth, QMS head of Economics Services, there are a larger number of over-45kg lwt lambs in the mix, resulting in a higher volume of lamb meat on the market.
October slaughter data shows Scottish abattoirs killing 2.5% fewer lambs than last year. This contrasts sharply with the 1.5% greater kill in English and Welsh abattoirs.
"This change in relative volumes is reflected in the price paid for lambs in Scotland, which has been running slightly ahead of prices in England and Wales for the past two weeks a scenario that has not existed since the beginning of August this year," said Mr Ashworth.
Over the past five years, however, it has become normal for Scottish auction prices for lamb to be ahead of those in England and Wales between August and November.
However, the rate at which lambs are reaching the market has slowed considerably. Between June and October, UK abattoirs handled 4% more lambs than last year but only 1% more in October.
"If we accept the June census results, which indicate there were 4% more lambs in the UK than last year, then the expectation remains that the number of lambs on farm must remain higher than last year, perhaps to the tune of 400,000 head," he said.
"The difficult question that remains is to what extent producers will increase their retention of ewe lambs for breeding and in so doing reduce the potential increase in lambs available for meat production from the 2014 lamb crop."
Offering additional support to prices, he added, is a slow return of Chinese buyers of lamb skins.
"Earlier in the year actions by the Chinese government to improve water quality closed many Chinese sheepskin processors and resulted in a global crash in sheepskin prices.
"Some of these processors have now taken the necessary remedial action and reopened. Consequently they are slowly returning to the marketplace. However, the retail demand for sheepskin and leather products remains subdued."
Cull ewe prices, in contrast to prime lamb prices, have been particularly strong and trading above year-earlier levels throughout the calendar year so far.
In recent weeks cull ewes have been trading at prices almost 20% higher than last year, Mr Ashworth said.
"One driver for this will have been the significant decline in ewe slaughterings. Between June and the end of October ewe slaughterings across the UK have been almost 12% lower than the same period last year, a decline of more than 100,000 head.
"A higher ewe population recorded in the June census would suggest that, at the usual replacement rates needed to maintain flock size, there would be a small growth in ewe slaughterings," Mr Ashworth said.
"The fact that ewe slaughterings are lower than last year may then prove to be an indicator of further growth in breeding sheep numbers this autumn."