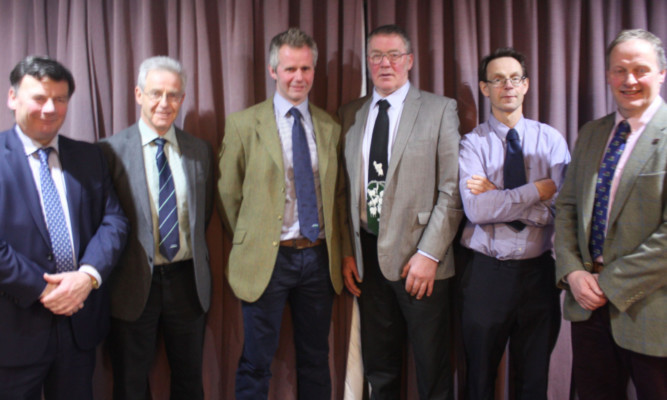 More than 100 NFU Scotland members from the East Central region heard from all six contenders for next month's NFU Scotland presidential and vice-presidential elections at a meeting in Perth on Monday evening.
The first impression was of six strong candidates keen and able to fill the top posts. Not every organisation can claim the same level of support, but it did make it hard for those at the meeting to pick their preference for the post of president and the two posts of vice-president.
Each candidate made a five-minute presentation and all were, as expected, well versed having already spoken at three hustings around the country.
It was up to the audience to tease out the differences, but it was all a matter of degree with no major disagreements. It was a case of 'safety first'.
Allan Bowie was first to speak, and immediately pointed out that he did not expect votes as a "given".
He has been vice-president for five years and is only standing as president this time.
"This is all about focusing on the future and the next generation.
"People might wonder why an east coast cereal farmer should lead the union, but in these five years I have gained a lot of experience and know the benefits of working closely with the commodity chairmen."
Andrew Moir was next on his feet, pledging himself to speak for "the grass-roots members".
He is standing for president and vice-president.
"I was brought up on a beef and sheep farm, and have run dairy and arable farms.
"I have served as Combinable Crops Committee chairman, and know that determined lobbying can work."
As current chairman of Agriscot and also of machinery ring Ringlink he had been responsible for launching schemes aimed at encouraging the younger generation into farming.
"As an industry, farming has too often been forced to be reactive and not forward-looking enough, and I would like to change that," he said.
Rob Livesey, currently a vice-president and standing for re-election to the post or for election as president, cited his 22 years of experience with the NFUS.
"I am familiar with the people in power and know the first job after the election is to see the first stages of Pillar 1 ( direct farm support) implemented, followed by the new Scottish Rural Development Programme."
He also looked forward to seeing the Beef 2020 Group's recommendations implemented, and "putting people back into the sector".
The greening review of the new CAP would be important, and there would be huge pressure from environmentalists to see rules tightened, Mr Livesey warned.
First to speak of the three candidates for vice-president only was Kelvin Pate.
"I was NFUS livestock chairman at the time of the 2007 foot-and mouth outbreak and blue tongue, but reluctantly stepped down from the front line because I had a young family and had just bought my farm.
"I am passionate about farming and have had the chance to look at my business to see what stacks up and what doesn't."
Maintaining crop protection capability was a "major challenge," he said, adding more controversially that the creation of Nitrate Vulnerable Zones was "a step in the right direction".
John Smith told the members that if elected as a vice-president he would give priority to making sure the new Basic Payment Scheme was in farmers' bank accounts at least in part by December this year.
He would also look for suitable compensation for producers affected by the Russian food import ban.
New entrants should have access to farms on public land but, at the same time, land reform legislation should allow farmers to still operate on a "suitable scale".
Andrew McCornick said he had first become involved with NFUS because he was unhappy about NVZ implementation in Nithsdale.
"Lobbying seemed the natural way to go about it, and NFUS seemed the right body to do it through."
He had also, as a regional chairman, been involved in the Scottish Government's weather aid campaign in 2012.
"I was disappointed in how that was delivered, and that makes me worried about CAP delivery," he said.
So there it was: six candidates, with only nuances of policy between them rather than radical differences.
When it comes to the votes at the NFUS annual meeting on February 10, it will be the assessment of leadership ability that will be the primary consideration.
The candidates are as follow.
* Allan Bowie, Strathkinness High Road, St Andrews.
Allan is married with two sons and a daughter.
He farms in north-east Fife and Clackmannanshire with Christine and son Callum, majoring on growing cereals.
The area farmed extends to about 850 acres on contract farming agreements.
In addition, the business grazes suckled calves.
He was chairman of the north-east Fife branch and served two years as chairman for East Central region.
Allan has been vice-president since February 2009.
* Rob Livesey, Firth, Catshawhill, Melrose.
Rob is married with two sons.
He farms in the Scottish Borders with 1,100 mules ewes, 80 Salers cows and 125 acres of cereals.
The Firth is a tenanted farm of 600 acres, and a further 200 acres is rented nearby.
Rob has been a vice-president for the last two years.
Prior to taking the tenancy of the Firth, he managed a large estate in south Ayrshire for seven years after leaving the family farm at Bonchester Bridge.
* Andrew Moir, Thornton Mains, Laurencekirk.
Andrew is a contract farmer in the north east, and his Thornton Farm extends to 650 acres, mainly in winter cropping.
He and wife Anne have three sons, and he was brought up on the family farm near Huntly.
He has been the union's Combinable Crop Committee chairman for the last three years, and also sat on NFU Scotland's Milk Committee for three years.
* Kelvin Pate, Aikeyside Farm, near Gifford.
Kelvin farms with wife Wendy and three teenage sons.
The farm is a 360-acre unit, part of which is Less Favoured Area, and is run along with 200 acres of grass let on an annual basis.
He has 800 ewes and 60 suckler cows, and was chairman of the Livestock Committee between 2007 and 2009.
He was involved with Lantra and QMS developing the idea of a level two apprenticeship for agriculture.
* Andrew McCornick, Barnbackle, Dumfries.
Andrew is married with three sons and a daughter.
He was born and brought up on a dairy farm in Wigtown.
Andrew and wife Janice farm their 580-acre unit with 160 suckler cows and 600 breeding ewes, with a small herd of pedigree Charolais cattle.
He is regional board chairman for Dumfries and Galloway.
* John Smith, Drumalea, Kintyre.
John farms on the Kintyre peninsula in partnership with wife Ruth.
They have two daughters.
The farm carries 350 pedigree Holsteins, with a similar number of followers on land nearby.
A total of just short of 1,000 acres comprises a mix of owned, rented and seasonal grazing.
He has served for five years as chairman of the Legal and Technical Committee and is a past national chairman of the Scottish Association of Young Farmers Clubs.
Meanwhile, Monday evening's meeting was the last in charge of the East Central region of the NFUS for west Fife farmer James Adams. He has held the position for three years and is to be succeeded by Aberfeldy member Roddy Kennedy. The position of vice-chairman has yet to be filled.