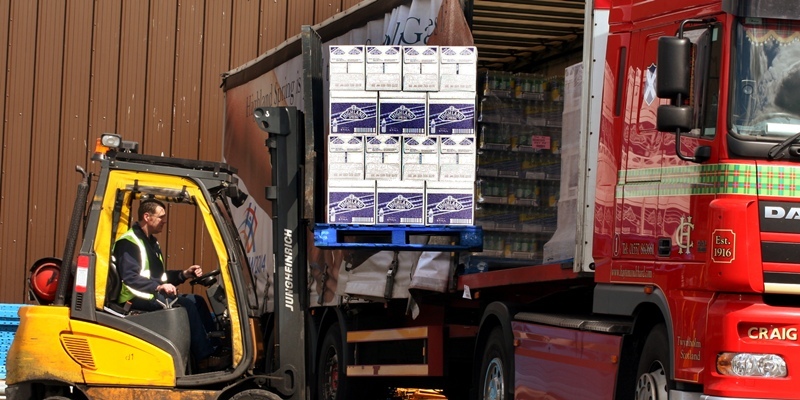 One of Perthshire's most successful companies has hit out at proposals to axe a £7 million scheme that helps firms switch their goods from road to rail.
Highland Spring has called on the Scottish Government to reconsider its decision to scrap the freight facilities grant (FFG) which paid up to 75% of the cost of new rail works.
The Blackford bottled water giant and a number of other businesses were in the initial stages of implementing the change.
After consulting the Campaign to Open Blackford Railway Station Again, Highland Spring executives worked for more than a year on plans for a rail terminal on site.
However the closure of FFG in April means the scheme is no longer viable and the firm will instead continue to send 10,000 lorry loads of water on to the nation's roads.
A spokesperson for the company said, "As the UK's leading producer of naturally sourced water we are committed to developing the business in a responsible way.
"By maintaining the freight facilities grant, Highland Spring and other like-minded Scottish companies can support the government in its objectives on sustainability, economic and environmental performance."
Green campaigners said the move was incompatible with the government's environmental policies.
Former Perthshire Green MSP Mark Ruskell said, "The SNP must reinstate the budget for this grant to help Perthshire businesses like Highland Spring maintain their competitiveness while tackling congestion and climate change."
Glasgow Green MSP Patrick Harvie said, "This fund is small just a 10th of 1% of the money John Swinney's department plans to spend over the next 12 months but it is extremely effective at getting freight off road and onto rail."Increase pollutionDr Dan Barlow, WWF Scotland's head of policy, said, "To date this initiative has taken millions of lorry miles off our roads.
"The draft budget proposal to cut this scheme will limit any further road to rail switch and increase climate pollution."
Keith Norman, general secretary of the Associated Society of Locomotive Engineers and Firemen, said, "Scotland's future low carbon economy needs a strong rail freight sector. Freight facility grants have been a huge success in helping businesses get freight off roads and on to rail.
"The Scottish Government's decision to close this facility is a huge blow to all of us who campaign for a sustainable transport future in Scotland."
Mr Ruskell added that reducing the number of heavy goods vehicles on the A9 would improve its safety record.
"If we want to keep Scotland moving while tackling the safety issues on the A9 then we need to invest in shifting as much freight from road to rail as is feasible," he said.
"The volume of freight traffic on the A9 is certainly a major contributor to the frustration of drivers and the dismal safety record it holds."'Priorities all wrong'As part of his draft budget, finance secretary John Swinney closed the FFG started in 1974 to new applicants.
Annual government support for freight will fall from £10.3m to £2.9m.
The issue was discussed in the Scottish Parliament on Thursday during a member's debate brought forward by Labour's Cathy Jamieson.
The MSP said, "The SNP's plans to scrap this successful scheme are bad for business and bad for the environment.
"Everybody benefits from lower levels of congestion and pollution when we can take heavy lorries off the road and move freight onto the railways."
She added, "To scrap this project now after significant time and money has already been invested would be a slap in the face for many companies, and shows once again that the SNP Government have their priorities all wrong."