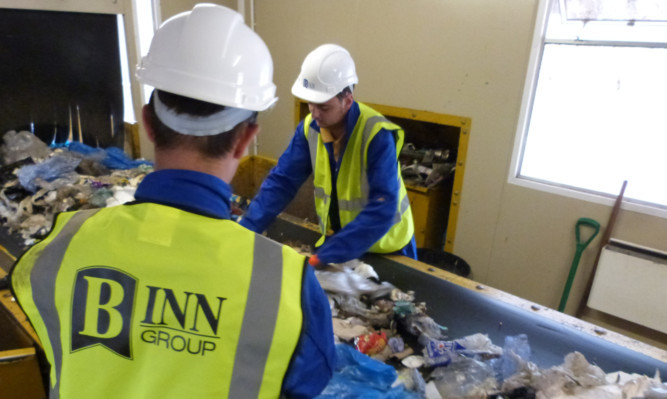 Long-standing Perth skip hire and waste management firm Holden Environmental has been sold to industry rival Binn Group.
Holden's new Glenfarg-based owners will continue to operate the firm's Shore Road yard in Perth and all 10 of the employees based at the site have retained their jobs.
Holden has been operating from the site for more than 70 years, originally as a scrap business before it increased its offering to include skip hire, waste management and recycling services.
Holden's activities have strong synergies with Binn's own operations.
The group has grown into one of Scotland's most high-profile recycling and resource management companies since being founded by father-and-son team John and Allan MacGregor more than 20 years ago as a land diversification project at Binn Farm.
The business now employs a workforce of more than 100 staff and is keen to secure further growth.
Chief executive Allan MacGregor said the Holden deal represented an exciting phase in Binn's long-term growth plans and met its aspiration to have a secondary site in the Fair City.
"Binn Group has a long-term plan to expand into urban satellite sites in key locations throughout Scotland," said Mr MacGregor.
"Buying over Holden's well-established business within Perth fulfils the first phase of that ambition."
Holden Environmental managing director Robert Holden said he was pleased that Shore Road would continue to play a waste management function.
"After careful consideration it was determined that the long-term success of the business was best secured by selling to the Binn Group, who have undertaken to continue the first-class service our loyal customers have come to expect over the years," Mr Holden said.
"We have worked closely with Binn's senior management team to ensure a smooth handover of operations for our employees, customers and suppliers.
"We wish them well in their new venture."
Holden's Shore Road site is well known in Perth as a section of it was the subject of an ultimately doomed plan by Grundon Waste Management to build a £100 million waste to energy incinerator plan.
The proposed scheme caused huge controversy but was dropped in 2013 after Grundon failed to lodge an appeal against a planning refusal for the site.