 The Scottish economy looks set for growth in the first half of 2015, despite the recovery in exporting coming to a shuddering halt.
The latest Bank of Scotland Business Monitor report shows that in the three months to the end of November, 75% of firms either maintained or increased turnover.
The outcome represented a drop-off from the strong performance in the previous quarter but was still the fifth-best result in seven years, and the bank said it was further evidence of the embedding of the recovery.
The dominant services sector was top performer with a +19 measurement for the quarter, down from +27% the previous period but ahead on an annual basis.
The production sector's +12% rating was a significant drop-off from the +35% of the previous period.
Volumes of repeat business remained high in the latest quarter, but new order levels eased back marginally on the previous month.
Overall, the report found businesses were confident over their prospects for the next six months, with expectation levels comparable to 2007 prior to the recessionary crash.
However, the export market remains a significant challenge with the sector plunging into negative territory in the quarter to November.
The -4% outcome was down on the +13% of the previous period, but was better than the -14% seen at the same stage in 2013.
"In the summer Business Monitor, expectations for future export activity reached the second highest level in the 16 years of the Business Monitor," the report's authors said.
"The latest net balance for export activity for the next six months has plunged downwards.
"The net balance reached +5% well down on the +32% of last quarter and the +21% of the same quarter one year ago."
BoS chief economist Donald MacRae said: "The surge in economic activity identified in summer 2013 has been maintained throughout 2014."
He added: "Expectations have fallen slightly but are close to pre-recession levels, suggesting the recovery will continue into 2015 but the rate of growth will ease."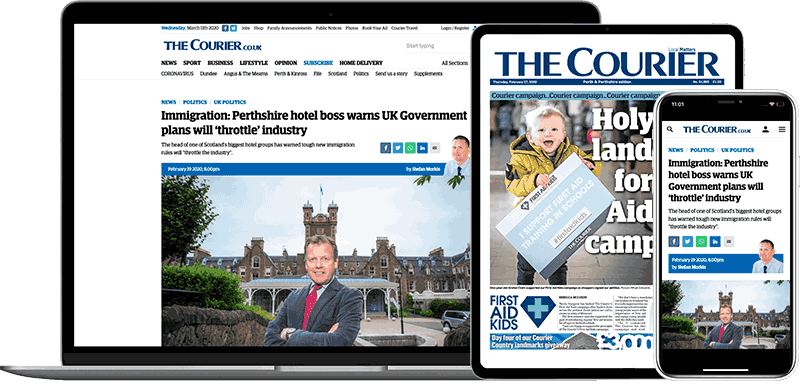 Help support quality local journalism … become a digital subscriber to The Courier
For as little as £5.99 a month you can access all of our content, including Premium articles.
Subscribe