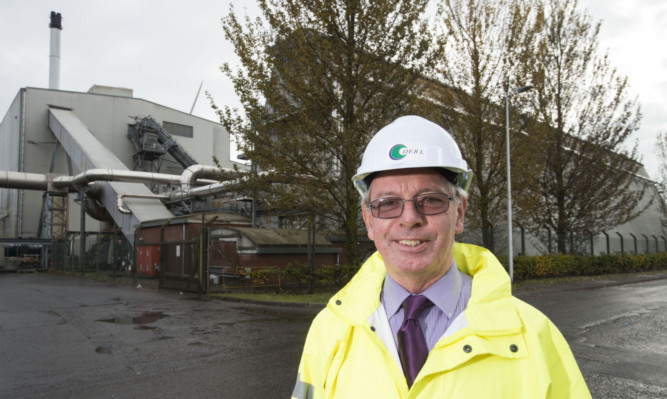 Dundee's troubled civic incinerator complex has stopped burning through millions of pounds of taxpayers' cash after moving into regular profitable trading for the first time.
The waste-to-energy plant at Baldovie has received millions in support funding since it opened its doors 15 years ago, but has only once turned a full-year's profit.
In its last full accounts, for the 18-month period to June 30, 2013, operators Dundee Energy Recycling Ltd (DERL) made a £5.89m operating loss.
Accounts for the financial year 2014 are not due to be published until the autumn, but DERL yesterday said its position had now changed after the site started to enjoy the benefits from a multi-million-pound upgrade that followed a major fire in 2012.
The company, which employs more than 40 staff, said the plant's performance had improved significantly in recent months to the point where it was operating profitably on a month-by-month basis.
The facility, which is wholly owned by Dundee City Council, is now servicing the interest on its significant loan debt.
Before the devastating fire of 2012 the site was available for commercial processing of waste an average of 65% of the time.
The upgrade has improved that figure markedly. Over the 12 months to December 31, 2014, plant availability rose to an average of 77.3% a near 20% increase in long-term capacity.
In October the site averaged 91.9% operational availability. This is the first time the plant has exceeded 90% capacity over a four-week period.
The improvements mean Dundee City Council has not had to divert any of its DERL-earmarked waste to landfill, for the first time since the site became operational in 2000.
Rodger McMullan, who took over from Alan Jones as DERL's new managing director at the start of this month, said the operation is going in the right direction.
"The major boiler upgrade in 2012-13, which coincided with the reinstatement work following the 2012 fire, has been very successful," Mr McMullan said in his first public comments about the site.
"In 2014 this virtually eliminated boiler tube leaks, problems which had caused us so much downtime in the past.
"The company has now moved into profit and met its financial commitments for 2014 to its owner, Dundee City Council.
"While current productivity levels are very encouraging, we are not complacent," he added.
"We continue to work hard to sustain this performance, which makes the plant an attractive proposition for processing waste going forward.
"Further investment will be required in the future to maintain availability levels."
The post-blaze refurbishment, which also included a reflooring of the tipping hall, was financed by a combination of an £8m loan from Dundee City Council and a £5.5m fire insurance settlement.