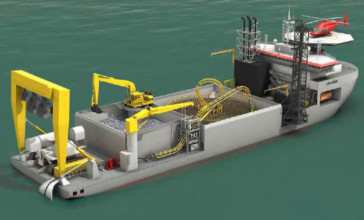 First Minister Nicola Sturgeon will be appraised of one of the country's largest ever Living Wage compliant projects today ahead of her first major business speech.
Nicola Sturgeon will hear about plans for a new £460 million high-voltage subsea electricity cable between Caithness and Moray during a visit to Perth-based power supplier SSE's Glasgow offices.
The contract, announced in September, will involve Swiss-based ABB designing and commissioning two land-based current converter stations and supplying the 160km of seabed pipeline that will stretch between them.
The deal was negotiated by SSE's networks business SHE Transmission and has provisions ensuring that up to 600 workers on the project will be paid at least the Living Wage of £7.65, a figure that is higher than the statutory minimum wage.
The move comes a year after SSE became Scotland's largest Living Wage accredited employer and just months after the firm picked up the Living Wage Champion Award for Scotland.
The visit will see the new First Minister make her first significant address to the business community.
It is understood she will say that paying the Living Wage is one way in which Scotland's private sector can help support her vision for a more socially just Scotland.
Chief executive Alistair Phillips-Davies said SSE was proud to be a Living Wage employer and the only UK energy supplier to be so.
"SSE is proud to play its part when it comes to being a responsible business and one which helps build a fairer and more prosperous Scotland," Mr Davies said.
"The new Caithness to Moray contract will make sure hundreds of workers on site will get a fair day's pay for a fair day's work, and reflects our commitment to being a responsible employer.
"It is one of several actions SSE is taking to make a difference, including being the first FTSE 100 company to be awarded the Fair Tax Mark."
The new subsea link is one of Scotland's most important major infrastructure projects and will deliver a more robust electricity network for rural Highland communities.
The project, expected to be completed in 2018, will also provide extra capacity for new renewables projects expected to come on-stream in the years ahead.
Peter Kelly, director of the Poverty Alliance, said it welcomes SSE's commitment to paying the Living Wage to its employees and for extending that initiative to sub-contract workers.
"Scottish businesses can all play their part in building a fairer and more prosperous society, and paying the Living Wage is one way to do that.
"The Living Wage in Scotland is now gaining genuine momentum with employers the number of employers paying it here has tripled from 20 to 70 since April.
"We recognise the support for the campaign from accredited employers like SSE and the Scottish Government," added Mr Kelly.