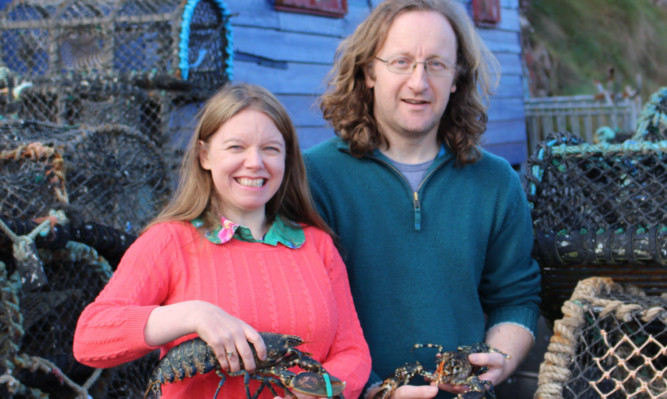 A fledgling Fife business has received a major boost by winning the top cash prize in a Scottish competition to reward early stage enterprises.
The Lobster Pod of Dalgety Bay was awarded £100,000 in the ScotEdge Awards from a total over £1 million in loans and grants.
The awards were given to the new Scottish businesses which were best able to demonstrate their ability to grow and bring valuable turnover and jobs into the Scottish economy.
Husband and wife team Errin and Dr Keith Todd developed an innovative shellfish transportation system which reduces the creatures mortality rates in transit and saves in food wastage costs.
Errin said: "We will use the money to appoint sales and production managers to build Lobster Pod from strong foundations.
"We will look for new premises for an assembly workshop and showroom, hopefully be in Dalgety Bay but if not in Kirkcaldy or Dunfermline.
"We have a UK patent for our product but the money will allow us to apply for a worldwide patent so we can export to Europe, North America and the Far East.
"To help in this effort we aim to be part of the Scotland section at the International Seafood Expo in Brussels next year. Something like 25,000 worldwide customers will be there and it will be a significant showcase event for us."
The Todds have projected that their company will need to create up to 12 jobs in the next three years to cope with the new business they are confident of generating. They are also targeting a turnover of £4.5 million in that time.
She commented: "This fantastic boost from the ScotEdge Awards will put us on the map and help us build a successful company that will create jobs and support the Fife economy.
"Our success would not have been possible without the support of Business Gateway Fife for which we are very grateful."
Businesses pitched for three minutes to a panel of some of Scotland's leading business people, including Sir Tom Hunter, and then faced questions in a Dragons' Den-type format.
The competitors were measured for business growth potential, entrepreneurial spirit, innovation, ambition, internationalisation and risk/cost awareness.
Four previous rounds saw 69 Scottish businesses awarded funds, which and to the end of September generated 207 jobs, £8.4m turnover and £4.25m investment.
Sir Tom Hunter commented: "Entrepreneurial businesses are the lifeblood of Scotland and its economy. The Scottish EDGE offers ambitious entrepreneurs a leg up the ladder towards long-term success.
"We look forward to working with all of the applicants with wrap-around support to help hem scale up."
Deputy First Minister John Swinney said: "ScotEdge exemplifies what can be achieved with a collaborative approach and shared ambition of becoming a world-leading entrepreneurial and innovative nation."
Partner and ambassador companies were on hand to offer free support to the entrepreneurs.