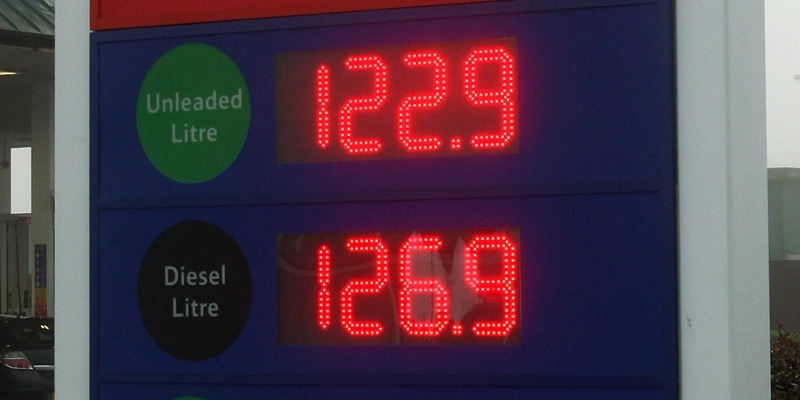 Communities across the country are bracing themselves for the impact of impending duty and VAT increases.
While the bells will indicate the start of a new year, they will also mark the continuation of an extremely lean period in Britain's finances the immediate effect being a 0.76p rise in fuel duty followed three days later with a 2.5% increase in VAT.
Higher costs for commuting and rising prices for goods in the remote corners will affect living standards.
"It is inevitable that I will have to pass on increased transport costs to the public," said one Perth and Kinross businessman, who didn't want to be named.
"I am already experiencing a loss of trade because we can't compete with big supermarkets if it continues, my business, which is seen as a cornerstone of the local community, could be in jeopardy."
Cupar haulage firm Wilson Steven Transport said the increase in the price of fuel will have a huge impact.
Its fuel bill for this year was £730,000, accounting for a third of its operating costs, and partner Liana Steven estimated it would rocket by £10,000 a month with the extra VAT and duty.
Ms Steven said this had not been a great year and the fuel price rise was one of several drains on resources, meaning there will be less money for reinvestment.
The firm has already had to contend with the harsh winter and the prolonged closure of Tarvit Bridge, Cupar, while wage rises and the increase in National Insurance have also meant bigger bills.
Ms Steven said, "All our fleet are up-to-date, efficient vehicles and we do most of the maintenance ourselves so we know they are as efficient as they can be."Taxis 'battered'Dundee taxi drivers feel they are being "battered" by costs, and expect worse to come due to the VAT and fuel duty rises.
Graeme Stephen, chairman of the Dundee Taxi Association, spoke as he and his members prepare for diesel prices passing through the £1.30 barrier on Saturday.
Mr Stephen, who covers up to 30,000 miles a year in his own taxi, warned it won't just be high-mileage drivers like himself who will feel the pinch of these latest increases.
He said, "My car is just three years old and then it cost about £50 to fill it up now it's way over £70, and that's ridiculous.
"The public might not understand that it's 2.5% from the moment it leaves the manufacturer, and by the time it gets into another set of hands it's another 2.5% people will be paying VAT on top of VAT."
Besides an increase in fuel bills, increased servicing, insurance and maintenance costs are hitting cabbies hard.
With prices for oil continuing to spike amidst continuing speculation of worldwide economic growth, there would appear to be little respite forthcoming for those who need fuel to carry out their work.
Mr Stephen said, "Fuel is going up and up and up and one of the papers was saying that diesel could be £1.34 next month.
"Oil is near $100 a barrel, and when you're filling up now the pounds are spinning faster than the litres."
He added, "We're being battered."Positive effects?While rising fuel prices will inevitably put a strain on the finances of all motorists, one Perth and Kinross councillor believes they might actually assist some communities.
Councillor John Kellas, convener of the enterprise and infrastructure committee, said, "This might encourage them to make use of local services and businesses and not run around so much that would be something positive."
The chief executive of Dundee and Angus Chamber of Commerce said the rises in VAT and fuel duty are not welcome but are necessary for the economic recovery.
Alan Mitchell told The Courier the increases were something of a gamble, but were understandable despite adding to the costs of businesses.
He said, "Obviously the full impact of the VAT rise will be difficult to tell all things being equal, less money in people's pockets means less money to spend.
"The government is in a difficult position, as it has to tackle the budget deficit without strangling growth."
Although some argue these added costs may hinder the economic recovery, Mr Mitchell believes they are essential.
However, if consumers alone are expected to absorb higher costs, fears prevail that further tightening of purse strings, coupled with continued uncertainty over job security for many, could lead the country into a double-dip recession as the market for non-essential goods dries up.
Mr Mitchell added that should any recovery be completed, private enterprise would have to be at the heart of any recovery.
Asked if the rises were a necessary evil, he said, "Unfortunately yes.
"Just now nobody knows if the government is getting the right balance."
"But what it needs to do is that when it has money to spend it does so wisely and supports businesses and growth."