A housing market "mini boom" has pushed the average price tag on a property to a new record high of over £320,000, according to a website.
Across Britain, the average seller is now asking £7,640 more than they were before the coronavirus lockdown in March, Rightmove said.
The average asking price in July stood at £320,265.
Just before the housing market was put on hold to help limit the spread of coronavirus, in March, the average asking price was £312,625 – which had also been a record.
Rightmove said 44% of new listings that came up for sale in the first month after the housing market in England opened on May 13 have already been marked as "sale agreed", compared with 34% for the equivalent dates last year.
Earlier this month, Chancellor Rishi Sunak announced a stamp duty cut for England and Northern Ireland.
The measure, which lasts until March 31 2021, temporarily increases the "nil rate" band of stamp duty from £125,000 to £500,000.
Buyers can potentially save up to £15,000.
Some commentators have suggested the stamp duty cut could push up prices and sellers may add the equivalent of the stamp duty saving buyers are making to their asking price.
July's jump in asking prices may fuel these concerns – however, Rightmove's latest report only covers the period up to July 11, just a few days after the stamp duty cut was announced on July 8.
The impact of the cut may show up more fully in next month's survey.
The website said asking prices in July were 3.7% higher than a year ago.
Miles Shipside, Rightmove director, said: "The unexpected mini-boom continues to gather momentum."
He added: "Overall buyer inquiries are up by an incredible 75% year-on-year in Britain and we expect activity will increase even further as Scotland has not yet been open for a full month, and Wales still has some housing market restrictions in place.
"The busy until interrupted spring market has now picked up where it left off and has been accelerated by both time-limited stamp duty holidays and by home owners reappraising their homes and lifestyles because of the lockdown.
"The strength of buyer demand has contributed to record prices, with the 3.7% annual rate of increase being the highest for over three and-a-half years.
"These figures are the earliest indicator of house price trends. They show on average prices gently rising not falling, and this will be reflected in the coming months in other house price reports."
Rightmove said the number of properties coming to market is up by 11.1% this month compared with a year ago, despite Scotland and Wales not contributing to the full period.
It said the stamp duty holidays will be a further incentive for people to come to market now.
Mr Shipside continued: "There is a window of opportunity for sellers to come to market and to find a buyer who is tempted by the stamp duty savings.
"Although March next year may sound like a long time away, in reality sellers need to find a buyer before Christmas, to allow a further three months for completion of the legal process to beat the deadline.
"While property is selling much faster than a year ago, it's important not to over-price and miss this window. It's still a price sensitive market with buyers having limits on what they are able to borrow, and the uncertain economic outlook making them more cautious."
Rightmove's report also quoted the views of estate agents.
Martin Walshe, director at Cheffins in Cambridge, said: "Post-lockdown we're as busy as we have been at any time in the past five years and demand is at such a level that we have had over 25 properties go to sealed bids in the past four weeks.
"Lockdown made those who were already considering a house move almost frantic with anticipation for estate agency doors to reopen and the increase we've seen in inquiries since rules were relaxed has overtaken any other peak I've ever experienced.
"We haven't seen a market this competitive in years and we expect it to get busier still as the stamp duty slash starts to take effect."
Roger Wilkinson, of Wilkinson Grant & Co in Exeter, said: "In the last nine weeks, our Exeter and east Devon offices have agreed, exchanged or completed on over £50 million worth of sales.
"Many of our new listings have attracted multiple offers within a week or so of launch and many have been agreed in excess of pre-lockdown valuation guides."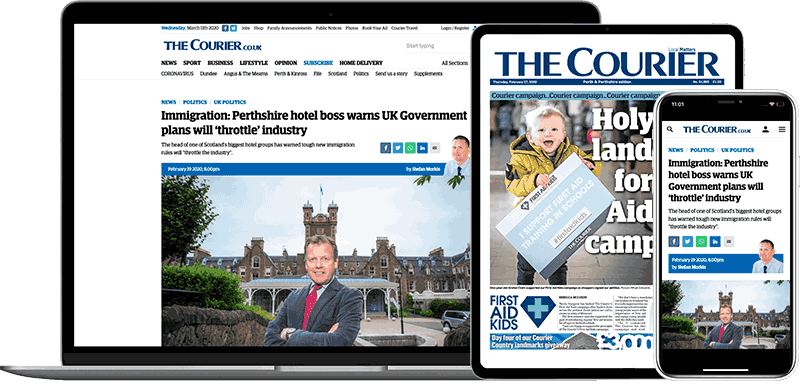 Help support quality local journalism … become a digital subscriber to The Courier
For as little as £5.99 a month you can access all of our content, including Premium articles.
Subscribe