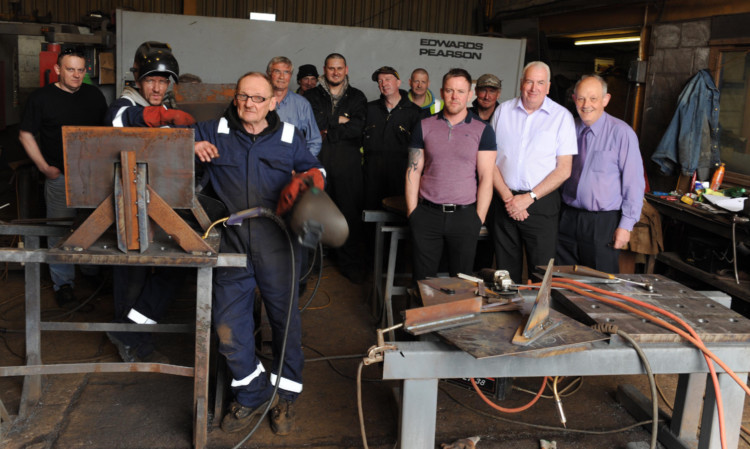 More than 100 businesses from across Central Scotland, Tayside and Fife have won supply and sub-contracting deals from the construction of the new £1.4 billion bridge across the Forth.
Scores of local firms feature among 578 companies to win contracts from the building of Queensferry Crossing with a list released yesterday including engineers, consultants and plant-hire specialists, but also featuring accommodation providers, a taxi firm, a cafe and a car wash.
But there was criticism too, as Labour said not enough orders were staying in Scotland. Infrastructure spokesman James Kelly said less than half the work was being completed by firms from north of the border.
Among those to benefit is Mossmorran structural engineer and blacksmith CV Carmichael, which is supplying support frames and platforms for the bridge's main towers.
Managing director Colin Carmichael said the family firm, which was founded in 1977 and employs 34 people, had received multiple bridge-related orders over the last three years.
"That represents roughly a quarter of our turnover over that period, and I'm obviously hopeful there will be more opportunities and orders over the next couple of years before the bridge opens," he said.
"Work from the project has been of great assistance to us during the recession in the construction industry. It has undoubtedly been a help when other work has been quieter than normal, and it has allowed us to maintain our workforce through a challenging period."
Other firms involved include Broughty Ferry-based Avian Communications, Glenfarg waste manager Binn Skips, Inverkeithing service boat outfit Calypso Marine, Cupar Bearings & Transmissions, and Perth fabricator Arc Steel.
Transport Scotland revealed 92% of the Forth Replacement Crossing (FRC) project's supply orders had gone to Scottish firms, with the total value of domestic contracts and supply deals for the major infrastructure project reaching £157 million so far.
But Mr Kelly said the 360 domestic firms winning deals had seen more than half of the total £393m spent head abroad.
"The reality is that not enough of the total contracts let have gone to Scottish firms," Mr Kelly said. "The rest have gone overseas, which was a massive blow for our home-grown businesses."
The statistics were unveiled as Transport Minister Keith Brown visited Irvine-based engineer Millar-Callaghan, which has secured purchase orders worth a total of £1.2m. The deals have helped create 17 jobs, including eight trainees with the company hoping the work will give it the boost it needs to win similar work in the future.
"The FRC is vital to the economy of Scotland and is delivering significant economic benefits, with over 1,000 people currently employed directly on site," said Mr Brown.
Millar-Callaghan managing director David Millar said the work accounted for a third of his firm's order book and turnover, and added that the high-profile project had proven a "calling card" for his company.
"We have secured an order to supply steel for a major project in London, the Hammersmith Flyover, and we believe some of the key personnel down there are only aware of us because of our work on the Queensferry crossing," he said.
Meanwhile, the parent firm behind one of the bridge's major construction partners yesterday reported "strong progress" since the start of the year, with profits likely to exceed City expectations following a step-up in the housing market.
Galliford Try which is part of a consortium which also comprises Dragados, Hochtief and American Bridge International through its Scottish building business Morrison Construction said returns would outstrip analyst consensus by more than £2m and exceed £92m.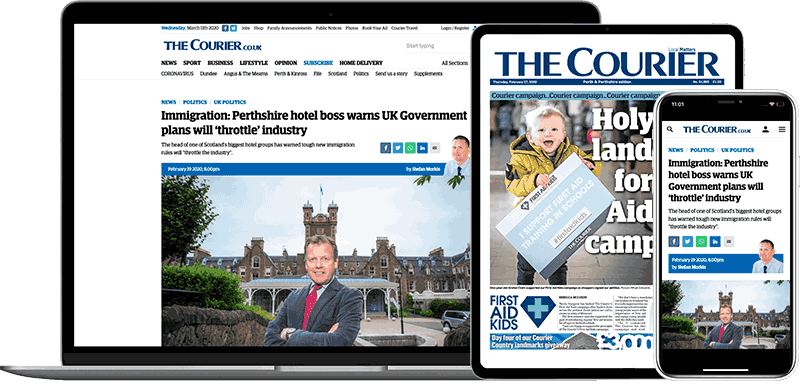 Help support quality local journalism … become a digital subscriber to The Courier
For as little as £5.99 a month you can access all of our content, including Premium articles.
Subscribe