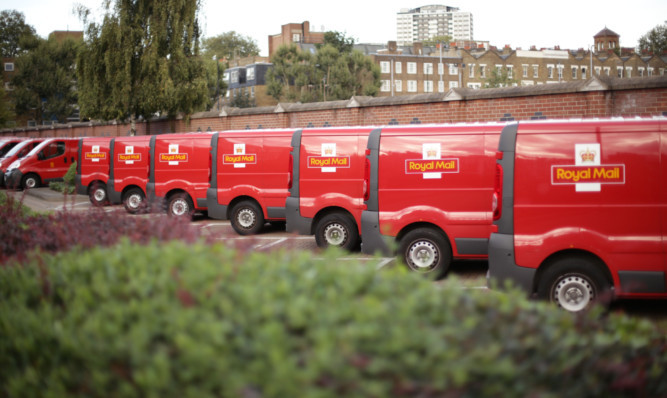 The UK Government has sold its final stake in the Royal Mail for just over £591 million
A total of 13% was sold at a price of 455 pence per share, with the final 1% holding gifted to eligible UK employees, raising their stake in the firm to 12%.
The price is lower than 500p per share achieved in the most recent sale over the summer, when a 15% stake raised £750m for the Government.
A total of £3.3 billion has been raised from the sale, with proceeds used to pay down the national debt.
Each of Royal Mail's 143,000 workers will receive around 70 shares, worth a total of £315 at current prices.
Business Secretary Sajid Javid said the sale was "the right step for the Royal Mail, its customers and the taxpayer".
He added: "This is a truly historic day for Royal Mail with the workers gaining a share of this history.
"We have delivered on our promise to sell the Government's entire remaining stake. For the very first time the company is now wholly owned by its employees and private investors."
Chancellor George Osborne said: "This is a milestone moment in the long and proud history of the Royal Mail.
"By fully leaving state ownership we have a win all round for customers, the workforce and the taxpayer. Every penny will be used to pay down our national debt as we continue to bring public finances under control."
He said the hard work of staff who have done a great job in turning the company around was being recognised by giving them a 1% stake.
When the Royal Mail was privatised, the Government was heavily criticised for undervaluing the organisation.
A report last year suggested it had made £180m less than it could have from the sale.
Communication Workers Union general secretary Dave Ward said: "This fire sale nails the lie that the Tories stand up for the interests of ordinary people.
"They have made it abundantly clear they are only interested in privatisation dogma and making the rich richer even when their actions place public services at risk."
Royal Mail pledged its continued commitment to the Universal Service Obligation to deliver to all 29m homes and businesses in the UK.