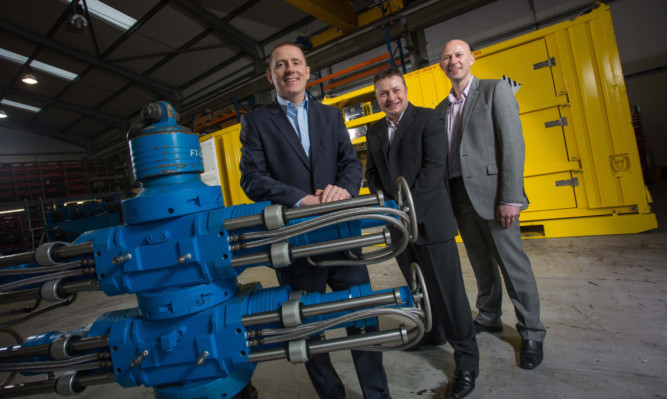 Forfar-based oilfield services firm RMEC is planning a major expansion drive aimed at achieving a turnover of £16 million in four years.
Last year the company reported a pre-tax profit of more than £1.2m from a turnover of £9.27m.
The figures were achieved on the back of a £7.7m investment by Maven Capital to fast-track RMEC's growth in the North Sea oil and gas sector.
The investment allowed the rental fleet to be expanded and the workshop and storage areas to be further developed in a 150% expansion of facilities.
RMEC, at Cotton of Pitkennedy, was established in 2004 and specialises in the maintenance, pressure testing, recertification, manufacture, supply and rental of well services equipment to the oil and gas industry.
On Monday the company announced the next stage in its growth strategy.
Steve Burgess, with a strong industry background in pumps and valves, has joined the firm to promote a new line of pump equipment.
RMEC said the move, following the establishment of RMEC's first international operation in the US and a six-figure investment to upgrade its planning software systems, is part of an ongoing strategy to grow the business to a £16m turnover by 2019.
Mr Burgess said: "I hope that my experience in this field will open doors to RMEC that previously weren't an option. I see RMEC as a great example of a small company doing well and thinking smart during the downturn."
RMEC managing director Bryan Fagan said: "The oil and gas industry rightly demands the highest quality in terms of its people and services and we have a recognised history of meeting all these requirements.
"Bringing a new product line to a business in the current environment, in addition to our ongoing growth and investment across all aspects of the business, is an important part of securing our continued success going forward."
Last month Mr Fagan said the collapse in the price of oil posed challenges for the industry in the North Sea, but RMEC's products are used in the operational expenditure sector of the oil and gas industry.
He said they should be sheltered from short-term variations to the barrel price.