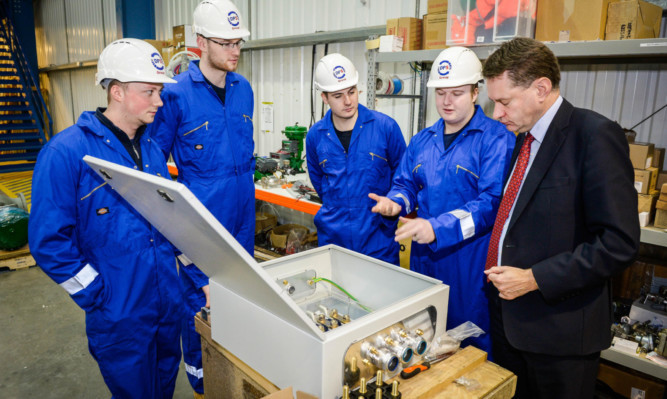 A Fife industrial instruments company has announced growth plans that could see its workforce double to 120.
DPS Group of Glenrothes said its plans could also lead to more jobs across its supply chain, especially in Fife.
The firm launched its strategy at its base in the Lomond Business Park, Baltimore Road, where it specialises in industrial, process and control solutions.
It has customers in a range of sectors including food and beverage, oil and gas, chemicals and electrical sectors.
With a current headcount of 60, DPS plans to double its payroll in five years.
It also committed to increasing its present number of eight modern apprentices.
DPS Group offers systems, services, product and recruitment divisions, and has grown in 15 years to an organisation with a turnover of £14 million.
Its new growth strategy is targeted on three projects which it hopes to achieve by 2021.
A leading mechanical engineering business is to be acquired to strengthen DPS Group's position as a total solutions provider.
DPS aims to expand into England with a satellite operation, and it is seeking to enlarge its Glenrothes facilities with 6,000ft2 of new space.
Colin Burnett, director, stated: "We have extremely ambitious plans for growth over the next five years.
"But we recognise these will require exceptionally hard work from all involved.
"DPS Group is a thriving part of the Fife economy, and we believe this will continue, generating jobs directly through our plans and indirectly through our supply chain.
"We are also committed to increasing the number of modern apprentices we employ and train, creating long-term career opportunities for young people in the area."
He added: "Our plans are bold but deliverable and, with further announcements to follow in the months ahead, we expect more positive news, which is good for Fife."
Mid-Scotland and Fife MSP Murdo Fraser, who visited the group yesterday, said: "DPS group have exciting plans for future growth which, if delivered, would provide sustainable and well-paid jobs for the Glenrothes area."