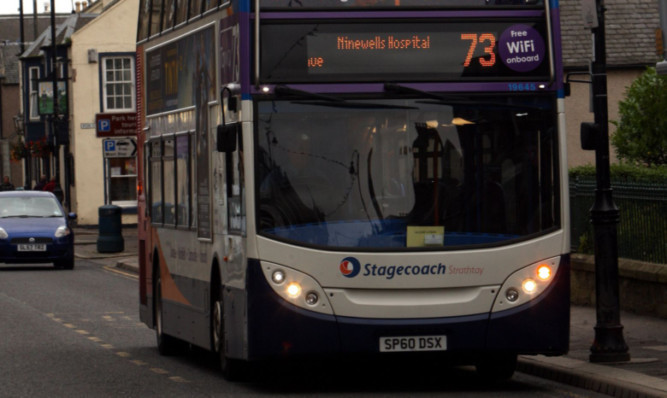 Perth-based public transport giant Stagecoach yesterday revealed an investment of more than £80 million in new rolling stock.
A fleet of nearly 470 buses and coaches will be introduced by Britain's biggest bus company over the next financial year.
More than £75m of those new vehicles will be introduced in Stagecoach's regional networks in Scotland, as well as England and Wales.
There is also a £2.7m order for new buses for London, and £6.9m of new coaches for the company's expanding megabus.com low-cost service in the UK and mainland Europe.
Stagecoach Group chief executive Martin Griffiths said: "This new investment is all about delivering better bus and coach journeys for our passengers. We have the lowest bus fares in Britain and a strong track-record of investment over many years that has attracted growing numbers of people back on board the bus.
"We believe strongly in reinvesting our profits to continue that growth and our sector-leading levels of customer satisfaction."
The latest announcement takes Stagecoach Group's total orders of new buses and coaches for its regional bus operations in the UK to around £630m in the last eight years.
The group has also ordered more than £20m of new coaches for megabus.com services in mainland Europe as well as £105m of new vehicles for its London bus operations since buying the business in 2010.
All of the new vehicles will be fitted with CCTV while many will also have wi-fi installed, allowing customers internet access during their journeys.
Mr Griffiths added: "Buses are central to our communities, giving people a greener way to access work, health, education and leisure.
"They are also critical to our economy. I'm delighted that most of our new buses will be built right here in the UK, helping support British manufacturing and hundreds of jobs in the supply chain."
The latest orders follow an annual competitive tendering process.
The first of the new vehicles will be delivered from this spring.
Highlights of the latest investment are 412 low-floor double-decker, single-decker, midi and mini buses for Stagecoach regional bus networks in the UK, as well as a total of 22 new coaches for megabus.com in the UK and Europe, and a further 34 coaches for Stagecoach Express operations in the UK.
Of the local bus order, 93 will be manufactured to operate on Stagecoach's luxury Gold services.
All of the new vehicles meet Euro 5 or Euro 6 emissions standards.
Along with the country's other major bus operators, Stagecoach is also making a multi-million-pound investment in smart multi-operator ticketing across all of the main city regions in the UK.
Work on the ground-breaking project is under way and is due to be completed this year.