 Caledonia Investments has agreed a potential £77 million takeover deal for fund manager and retail investor 7IM.
Subject to regulatory approvals, the firm will acquire a 94% stake in 7IM Holdings, the controlling member of Seven Investment Management LLP which operates the 7IM business, from current owners Allied Zurich Holdings and Aegon UK.
In addition, the management of 7IM which was founded in 2002 by CEO Tom Sheridan, CFO Charles Sparrow and head of corporate development Justin Urquhart Stewart will subscribe £5m for the remaining equity, with the balance of the purchase cost to be provided by £25m of bank debt. Caledonia said the move would create a business valued at £100m.
7IM has around 190 staff and assets under management of approximately £9.5 billion.
In the year to December 31, 7IM Holdings reported a pre-tax profit of £8.6m and gross assets of £42.9m.
Caledonia Investments which has strong historic links to north-east Scotland through the Cayzer family, some of whom remain major investors said 7IM would sit alongside its other unquoted investments, which include the UK caravan parks operator ParkHolidays, Choice Care Group and London's exclusive Sloane Club.
"Caledonia has a long history of investing in successful fund management businesses," head of unquoted investments Duncan Johnson said.
"We look forward to supporting Tom Sheridan and his team in building on 7IM's impressive growth record and strong investment performance to service an expanding UK wealth management market where there is a growing demand for multi-asset and multi-manager funds."
Mr Sheridan said: "My colleagues are also pleased to have the opportunity to be providing further investment into the business alongside Caledonia.
"We have many exciting developments and ideas for our clients, 7IM and our industry, and having Caledonia as a partner will greatly help us in achieving some very exciting goals."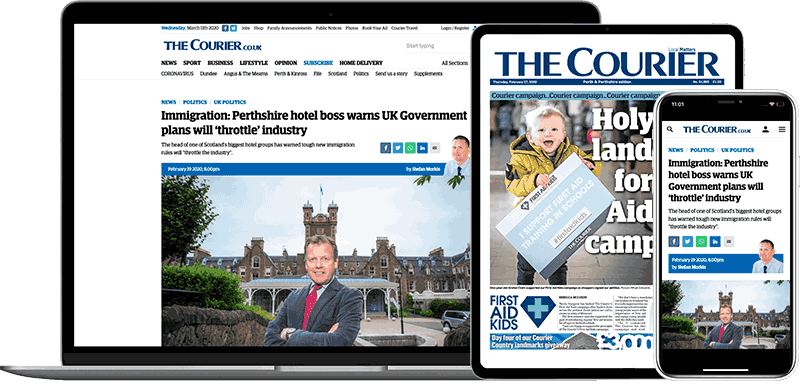 Help support quality local journalism … become a digital subscriber to The Courier
For as little as £5.99 a month you can access all of our content, including Premium articles.
Subscribe