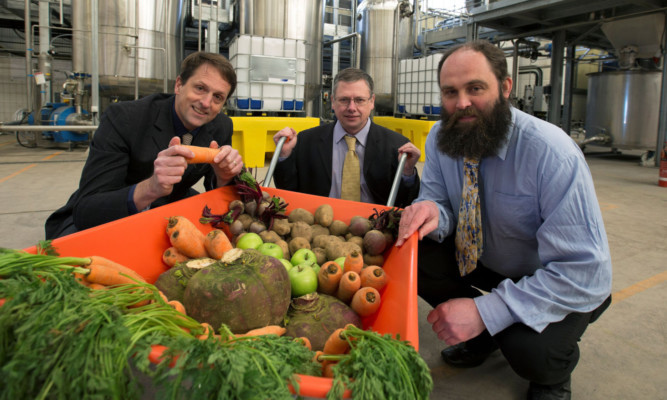 Scotland's first bio-refinery plant was opened in Fife on Wednesday in a sector with potential for economic growth and employment.
Annebelle Ewing, Minister for Youth and Women's Employment, touched the screen of an iPad at CelluComp's new base in Glenrothes to start production of Curran.
Gaelic for carrot and a registered trademark, the additive produced from the waste of sugar beet and other root vegetables improves the durability of paint and other coatings.
It also has thickening capabilities and has possible applications for other industries including paper and packaging, personal care, home care, concrete, pharmaceuticals and drilling fluids.
The CelluComp initiative aims to establish Scotland as a world leader in a sector estimated to be worth almost £200 million to the Scottish economy with a projected turnover of £900m by 2025.
Ms Ewing said "There is huge potential in Scotland for the development and successful application of industrial biotechnology and to create future high-value roles.
"Ambitious and innovative companies like CelluComp have already proven the important role they play in this development."
Scotland's national plan for industrial biotechnology is aimed at creating jobs, attracting long-term investment and expanding expertise and knowledge in the area.
She added: "CelluComp has developed a ground-breaking product which not only offers its own unique properties, but which also tackles some of the environmental challenges we face today that of maximising the use of waste."
The new plant on the Southfield Industrial Estate has a staff of 12 and CelluComp employs another nine at its head office in Burntisland.
Ms Ewing said the project is bringing highly skilled jobs and growth to Fife and forming a milestone on Scotland's journey to become a world-class bio-refinery leader.
Christian Kemp-Griffin, chief executive of the material science company, said: "This is a landmark day, and we're delighted that the production of Curran can now begin on a more commercial scale.
"There's a great deal of scientific innovation behind the development of Curran.
"Use of the product as an ingredient for paints and coatings not only brings an important green credential but also a uniquely natural strength and durability."
The company employs young people who came through the ScotGrad scheme, and he said the start of production was an opportunity for the minister to see the impact of developing a skilled workforce on driving economic growth.
Scottish Enterprise's company growth support director Anke Heggie said they looked forward to continuing to work with the company as it sets out to achieve its ambitious growth plans.
CelluComp has identified paints as a primary target market for Curran and is in discussion with a number of potential customers.
Curran comes in powder form and its special qualities as a mechanical film enhancement in paint and other coatings are its extra scrub resistance and resistance to cracking.