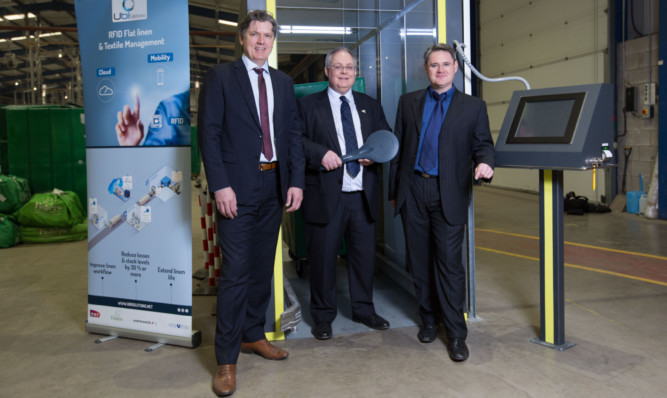 The bed linen and towels of the Cupar-based Fishers Laundry Group have been electronically tagged to improve its stock control systems.
The laundry tracking innovation is the first venture in the UK by UBI Solutions, the French market leader for radio-frequency identification (RFID) applications. Fishers' laundries will be equipped with RFID technology to track the entire stock of bed linen and towels.
UBI Solutions RFID technology provides a complete laundry tracking system that shows stock levels, improves linen workflow, reduces losses by up to 30% and extends linen life.
Fishers' new super laundry near Glasgow has already been installed with UBI Solutions' bespoke cloud based RFID equipment.
The £5 million site is among the most energy efficient plants in Europe with the capacity to wash, dry and iron up to 600,000 items of linen a week.
The plant also features high tech camera inspection equipment for quality assurance as well as the tracking system, which has also been installed at Fishers' sites in Newcastle and Cupar.
RFID tagging has been completed on all of Fishers' own range ZHEN linen, the discreet marks allowing instant identification of thousands of items being returned to or leaving its laundries.
Fishers managing director Michael Jones said: "At Fishers we're committed to innovating and RFID technology provides us with the opportunity to better control stock, identify where each item has been, see how many times items have been washed and ultimately deliver a better service to our customers."
UBI Solutions' business development director Renaud Munier said: "We're immensely proud to partner with Fishers as our first customer in the UK market.
"Fishers will benefit from our long experience in developing RFID Trace & Track solutions for laundry customers as well as for other industries.
"Fishers will be able to take advantage of the cloud technology which makes it possible to accurately track the movements of hundreds of thousands of linen items."
Formed in Aberfeldy in 1900, Fishers' customers include major hotel chains such as Premier Inn, Travelodge, Accor and Jury's, as well as prestigious venues such as the Caledonian Waldorf Astoria and boutique Malmaison chains.