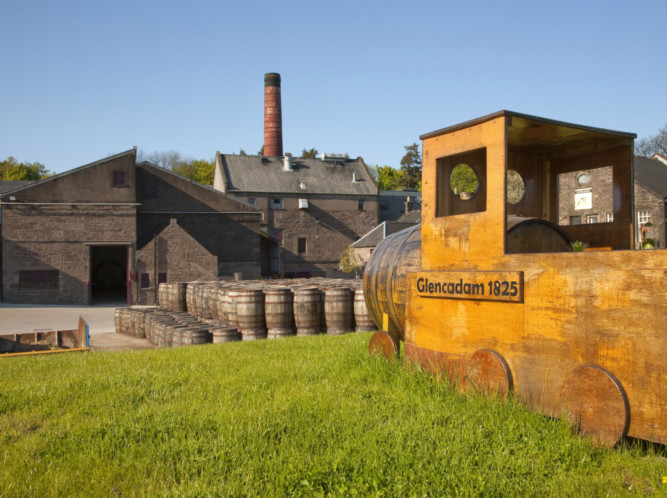 Angus Dundee Distillers, owners of Glencadam Single Malt Distillery at Brechin, has celebrated rises in sales and profits.
The London-based company, which also owns Tomintoul Distillery on Speyside, increased its turnover by 4.2% to £55.2 million in the year to June 30. Pre-tax profit was up 2.5% at £17.85m.
Director Tania Hillman said: "We will very much continue to support our two main brands of Tomintoul and Glencadam whiskies and are confident they have a long-term future."
The financial performance was due to additional business from overseas markets.
The directors said the firm will continue to modernise of its malt distilleries and bottling plant, and develop its customer base overseas and at home.
Angus Dundee Distillers, which now has a workforce of about 120, has more than 60 years' experience of distilling, bottling and exporting scotch whisky products and other spirits around the world.
Glencadam Distillery opened in 1825, a year after distilling on a large scale was legalised. Little has changed in its operation, and its award-winning Single Scotch Malt Whisky is still produced in the original fashion.
Its qualities as an elegant and refined spirit are said to be due to the pure spring water it uses from the Unthank Hills.
The lye pipes in Glencadam's two pot stills a process unchanged since the distillery began run upwards at an angle of 15 degrees.
The feature is unusual in the industry and is believed to help to produce Glencadam's mellow character. The entire range is bottled at 46%, is unchillfiltered and free from added colouring.
Angus Dundee's results were published as a new initiative was launched to help drive up Scottish food and drink exports.
The Scotch Whisky Association and Scotland Food & Drink signed an Export Collaboration Charter with 10 commitments to encourage the sharing of best export practice, knowledge, and networks across the sector.
The venture will build on the lessons learned by the scotch whisky industry as it successfully developed markets around the world, generating around £4 billion a year.
The partners will work closely with Scottish Development International to help Scotland reach its ambition of increasing exports from £5.1bn to £7.1bn by 2017. As well as helping food and drink's contribution to Scotland's economy, the charter should provide a further boost to scotch whisky