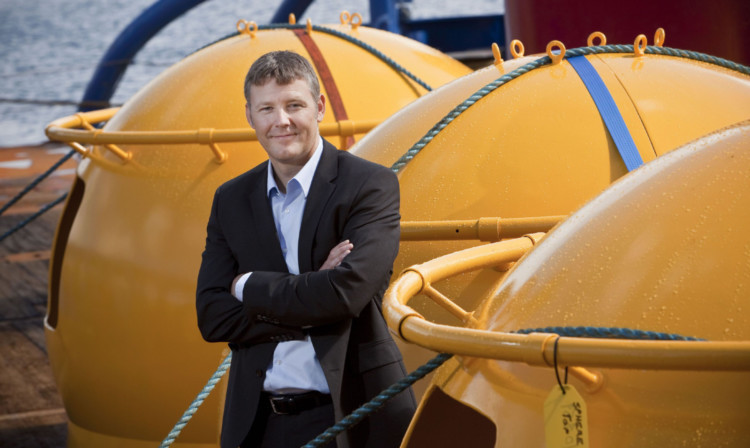 Fife shipping firm Briggs Marine is targeting offshore renewables, defence contracts and buoy maintenance deals following a "satisfactory" year in which profits climbed 38%.
Burntisland-based Briggs hailed a significant increase in revenues from its vessel charter business during the year to the end of March, as it also saw revenues climb 10% to £37.5 million.
The company's marine support services division also prospered, following a boost in the volume of work undertaken for the Ministry of Defence in the Falkland Islands. Pre-tax profit rose to £438,850 from £367,002 the previous year.
In a report posted at Companies House, the company's board said it continued "to be successful in securing new contracts, further demonstrating our experience, expertise and commitment to safe and efficient service delivery".
Directors added: "The group continues to develop its presence in a growing offshore renewable energy market, and has made further progress in its aim to become a leading provider of services to marine navigation aids, whilst at the same time sustaining growth in oil and gas terminal applications and subsea cable activities."
Briggs said the trading growth came against a difficult economic backdrop, but amid expectations for further growth across all sectors in the short-to-medium term.
"The renewable energy market is currently growing rapidly and, with our experience of wind, wave and tidal energy projects, we are well placed to take advantage of the many opportunities which are arising," the directors added.
"The company also expects to expand further into the market for the provision of maintenance services to marine navigation aids."
Briggs said it had been able to increase its full-time workforce thanks to "continued growth across the business", but would continue to use temporary labour at peak periods.
It employs around 100 people in Fife, though total headcount across the group climbed to more than 600 with the start of work on the Woolwich Ferry service in East London in April.
More than 100 staff were taken on from London River Services when Briggs started work on the £50m, seven-year deal.
It marked the company's first longer-term public passenger ferry contract, and sees the Dundee-built James Newman, John Burns and Ernest Bevin carry around 20,000 vehicles and 50,000 passengers each week on a free route close to both London City Airport and the Queen Elizabeth Olympic Park.
The move, described as a "logical step" when it was announced just over a year ago, is expected to make a considerable contribution to revenues during the current financial year.
The wider Briggs Commercial group which includes environmental services, civil engineering and investment firms, as well as subsidiaries registered in Singapore and Georgia also saw turnover climb 10%, to £42.5m.
Pre-tax profits fell back 17% to £1.7m, while group shareholder funds climbed to £28.7m in the year.
Exceptional costs of £472,867 were booked after Maltese joint venture Alpha Briggs had bank credit withdrawn, with securities called up by lenders.