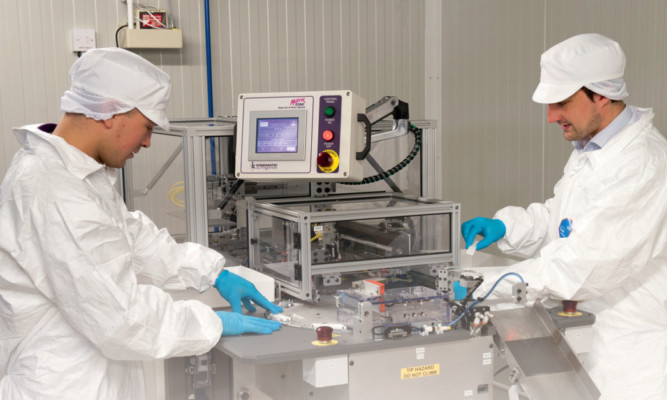 Scottish medical testing firm Omega Diagnostics saw its share price plunge on Tuesday after it revealed a new issue with its flagship HIV test.
Development of Visitect CD4, a hand-held testing kit that can indicate whether a person may have HIV by analysing a single drop of blood, has been fraught with difficulties.
Last year, the Alva-based firm suffered a major setback after field trials of the test uncovered reliability problems with its performance.
The firm spent months revisiting its processes to ensure the test was reliable and last month declared the test was "capable of meeting the company's performance design goals".
The firm had hoped that declaration would allow it to push forward into commercial production, but a new issue with CD4 has now come to light.
"Since our last update on Visitect CD4 confirming completion of the internal investigation phase, we moved into the process of verification and validation," chairman David Evans said.
"This includes testing the longer-term stability of in-house manufactured finished devices, and as such, could not commence until the manufacturing process had been selected.
"We have determined within the last few days that there is a stability issue with finished product that manifests after a period of five weeks of storage at room temperature.
"This requires further investigation as to root cause, which is being undertaken now.
"Verification and validation is a necessary process undertaken to establish finished product performance and we will not put product back into field evaluation until we have addressed this issue and the product meets the needs of the target market."
The update, which sent shares spiralling down more than 25% in early trading, came as the group announced its results for the year to March 31.
Turnover for the period was 4% ahead at £12.1 million although the figure would have been higher at circa £12.5m without the impact of a weaker euro.
Adjusted pre-tax profits were also ahead at £1.37m, a 25% improvement on last year's £1.1m return.
Group finance director Kieron Harbinson added that gross margins within the business had been maintained during the year and earnings per share were 10% ahead at 1.3 pence.
On a divisional basis food intolerance revenues were up 15% at £5.95m in the year and infectious disease-derived turnover was 4% up at £2.55m.
The allergy and autoimmune operation had a more difficult year with revenues down 9% at £3.61m.
Despite the technical issues, Mr Evans said the firm had made a good start to the new financial year.
He said: "Trading in our core business in the new financial year to date is in line with management expectations."
Shares in Omega closed down 4.62 at 18.25 following Tuesday's session.