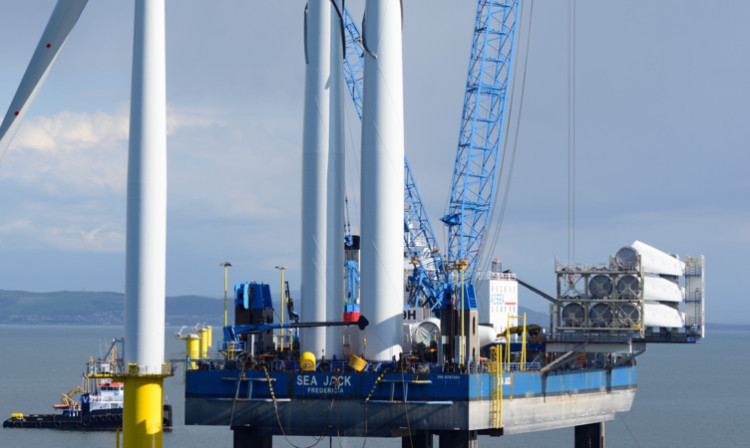 Plans for a £1.4 billion windfarm off Fife have entered a critical period after three multinational technology companies were named as preferred contractors for the project.
Dublin-based Mainstream Renewable Power (MRP) yesterday said it had appointed Siemens as the preferred supplier of turbines for its 450MW Neart Na Gaoithe array in the outer Firth of Forth.
The company has also brought Technip Offshore Wind and Marubeni – the Japanese conglomerate which took a 25% stake in MRP following an £86 million investment last year – on board as a consortium to supply engineering, procurement, construction and installation services to the project.
MRP offshore chief execuitive officer and executive director Andy Kinsella said the Neart project had moved into a critical period.
The development was shortlisted under the Department of Energy and Climate Change's Final Investment Decision Enabling for Renewables (FIDeR) scheme in December, but was later deemed as one of three "unaffordable" projects.
The blow has led MRP to redouble its efforts on Neart to ensure it qualifies for 20 years of financial support from the outgoing ROC (renewables obligation certificate) scheme.
"We put the Neart project in for the early FID enabling contract and the good news for us was it was one of seven successful projects to make the shortlist," Mr Kinsella said.
"Four were deemed affordable but Neart, along with the other Scottish projects that made the shortlist, were deemed unaffordable.
"Given our belief that nobody further up the (affordability) list is going to drop off, we decided to move forward on the basis that we would qualify under the ROC window."
Mr Kinsella said the cmpany was on track to send its ROC support submission to the energy regulator Ofgem by June.
He said: "In order to qualify for the ROC scheme we have to have all of our finance, equity and debt in place along with commitment to the supply chain – turbine contracts and balance of plant contracts – in place."
Neart is expected to be one of the first major offshore wind arrays to be established in Scottish waters and is one of three major projects currently being progressed for development sites off the coast of Fife and Angus.
The development – which will have the capacity to produce 3.7% of Scotland's total electricity requirment once fully operational – will see 90 wind turbines erected over an 81 square kilometre zone lying 15.8km offshore.
The Siemens SWT-6.0-154 turbines earmarked for Neart will each have a 6MW capacity and are among the most powerful machines currently in development globally.
Two of the Danish manufactured tubines are currently being evaluated offshore in UK waters while a further single unit is undergoing extensive trials on SSE's test bed at Hunterston in Ayrshire.
Mr Kinsella said the appointment of preferred contractors was a "milestone" moment for Neart, which received onshore planning consent in June 2013 and which is expected to receive offshore development consents within a matter of weeks.
He said MRP anticipated construction beginning on the Neart site early next year with the first electricity expected to be produced in late 2017 in line with ROC qualification guidelines.
"This is another significant step on the track to getting the Neart na Gaoithe wind farm to financial close this year," Mr Kinsella said.
"The next step will be the receipt of the offshore planning determination. Today's announcement is about gearing up the supply chain so that companies interested in supplying the project have visibility of the preferred contracting structure.
"I am delighted to be working with three world class companies who have a proven track record in delivering significant infrastructure projects across the globe."