 Pre-tax profits edged ahead at regional broadcaster STV in the first six months of the year.
Revenues climbed by £3.6 million to £51.2m in the first half of 2013, and pre-tax profits also increased by £300,000 to £6.7m.
The company, which provides news and entertainment programming across the Scottish regions, said the figures were a "strong" result for the business.
The board declared the resumption of the dividend with a planned 1.5p per share final payment for 2013.
National advertising revenue was up 4% in the first half compared with last year, and STV said it expected a further uplift in the third quarter, taking the cumulative sales increase to 6%.
Regional advertising was weaker but the firm said it was improving and expected to be 2% ahead year-on-year by the end of September. Sales derived from digital operations increased by 19% in the period.
There was also strong growth in revenues from the firm's fledgling productions business, which makes Catchphrase and Jo Brand's Great Wall of Comedy. Net debt was cut to £43.4m in the period, down from £55.9m a year earlier.
The first half also saw chairman Richard Findlay announce his intention to retire. He will be replaced at the end of this month by May Gurney chairman Baroness Ford of Cunninghame, who is also chairman of the Olympic Park Legacy Company and sat on the London Olympics board.
"We have delivered another strong financial performance, with a further significant reduction in net debt," chief executive Rob Woodward said.
"As Richard Findlay steps down as chairman, I would like to thank him for his significant contribution in re-establishing STV as a focused, customer-facing business, and look forward to delivering the next phase of the company's growth strategy under the chairmanship of Margaret Ford."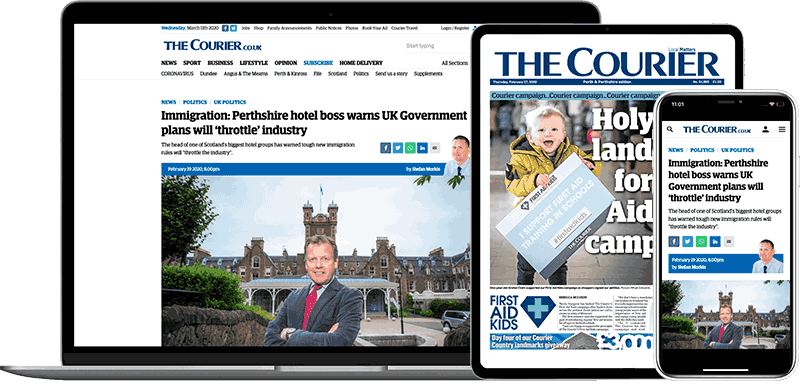 Help support quality local journalism … become a digital subscriber to The Courier
For as little as £5.99 a month you can access all of our content, including Premium articles.
Subscribe