The Government offered to consider taking a stake in a new multibillion-pound nuclear power station before the project was suspended, it has been revealed.
Japanese firm Hitachi announced on Thursday that it was not continuing with building the plant at Wylfa on Anglesey in North Wales, delivering a huge blow to the nuclear industry.
The company said it had made "strong progress" on the project, but had not been able to reach agreement on financing and associated commercial arrangements.
Unions called on the Government to step in to help save the project, warning of an energy "crisis".
Business Secretary Greg Clark told MPs that nuclear energy had become more "challenging", especially as the cost of renewable forms of energy had fallen "dramatically", to the point where they now require very little public subsidy and will soon require none.
"The Government was willing to consider taking a one-third equity stake in the project, alongside investment from Hitachi and government of Japan agencies and other strategic partners.
"Secondly, the Government was willing to consider providing all of the required debt financing to complete construction.
"Thirdly, the Government agreed to consider providing a Contract for Difference to the project with a strike price expected to be no more £75 per megawatt hour.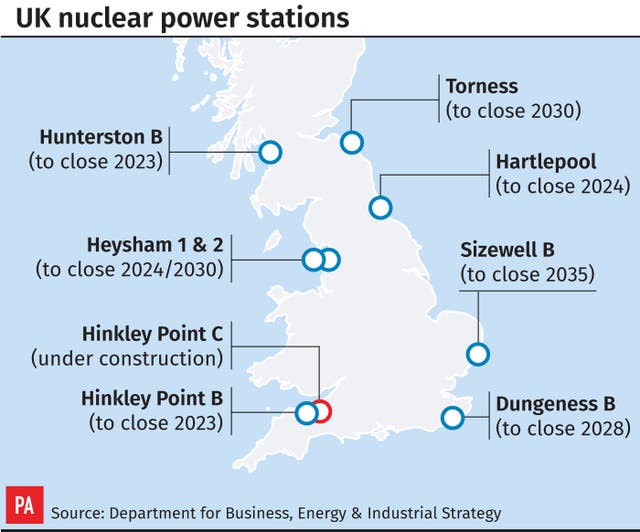 "I hope the House would agree that this is a significant and generous package of potential support that goes beyond what any government has been willing to consider in the past.
"Despite this potential investment, and strong support from the government of Japan, Hitachi have reached the view that the project still posed too great a commercial challenge, particularly given their desire to deconsolidate the project from their balance sheet and the likely level of return on their investment," said Mr Clark.
Duncan Hawthorne, chief executive of Hitachi's nuclear business, Horizon Nuclear Power, said: "We have made very strong progress on all aspects of the project's development, including the UK design of our tried and tested reactor, supply chain development and especially the building of a very capable organisation of talented and committed people.
"We have been in close discussions with the UK Government, in co-operation with the government of Japan, on the financing and associated commercial arrangements for our project for some years now. I am very sorry to say that, despite the best efforts of everyone involved, we've not been able to reach an agreement to the satisfaction of all concerned."
Hitachi said it will also suspend work on another site, in Oldbury in Gloucestershire, "until a solution can be found".
Hitachi's move follows a decision by Toshiba not to go ahead with a nuclear power station at Moorside in Cumbria.
Justin Bowden, national officer of the GMB union, said: "Hitachi's announcement, coming so soon after the Moorside fiasco, raises the very real prospect of a UK energy crisis.
"While the Government has had its head up its proverbial backside over Brexit, vital matters like guaranteeing the country's future energy supply appear to have gone by the wayside."
Shadow business secretary Rebecca Long Bailey said: "The Government's new nuclear strategy, adopted by the Conservatives and spearheaded by their Liberal Democrat coalition partners in 2013, is now lying in tatters.
"Just two months ago, the Government's lack of clarity over funding for new nuclear led Toshiba to withdraw from Moorside. That was a blow to the UK's energy security, its decarbonisation goals, and the economy of Cumbria.
"But with Hitachi's decision to withdraw from the Wylfa nuclear power plant, this triple blow has escalated into a full-blown crisis."
Unite union national officer Peter McIntosh said: "The decision is a disaster for the UK economy and future energy needs of the country. It is the latest chapter in the sorry saga of recent UK energy policy.
"There are very real concerns over how we will keep the lights on for industry and consumers in the coming decades."
Tom Greatrex, chief executive of the Nuclear Industry Association, said: "It's regrettable that this project has been suspended, especially as a considerable amount of groundwork has already taken place on the Wylfa project, including creating a supply chain to deliver the project."
Thousands of jobs were set to be created in the construction of Wylfa and hundreds of employees would have been based at the site.
Hitachi has already spent more than £1 billion on the project, which would have been expected to cost around £15 billion on completion.