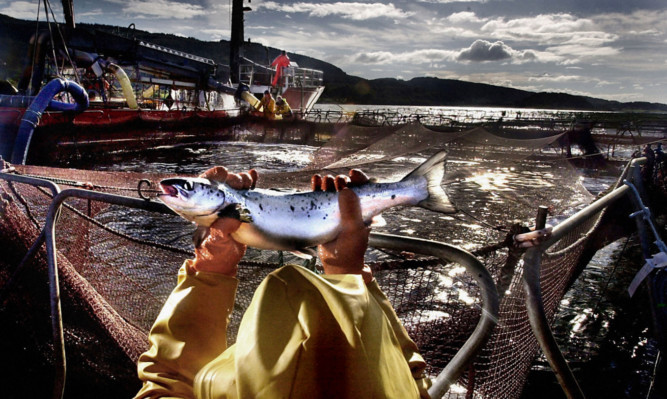 AS DEMAND for the delicacy in the emerging Chinese market continued to grow, Scottish salmon exports to the Far East leapt ahead last year.
A trade agreement allowing Scottish seafood to be sold in the world's most populous nation was reached in 2011 and the country is now the largest single Asian consumer of salmon products.
Data from HM Revenue & Customs shows that 8,675 tonnes of salmon were exported to the Far East in the first 10 months of last year more than was sold in the entirety of 2011.
The value of the exports which include fresh, frozen and smoked salmon products reached more than £37 million in the first 10 months of 2012, up from £28m in the comparable period the year previous.
The new figures come just a month after representatives of the seafood industry attended the largest ever Scottish food and drink trade mission to Japan and China, during which an agreement was signed with the World Association of Chefs' Societies to promote Scottish salmon and langoustines to its 10 million member chefs across 93 countries.
Scottish Salmon Producers' Organisation chief executive Scott Landsburgh said the success had been phenomenal, but there were still huge opportunities for growth.
He said: "Sales have increased more than 12-fold in three years, and our market share still only represents less than 1% of the total current opportunity in the Far East.
"In the vast region even niches of niches are huge, so the rewards for finding the right opportunities can be phenomenal.
"With a rapid growth of middle classes looking for premium and healthy products, there remains plenty of scope for further market-share expansion in this rapidly growing market."
The industry will look to build on the success when senior representatives of the salmon and langoustine sectors attend Hofex 2013, the region's premier retail and food service event, in Hong Kong in May.
Scottish Development International chief executive Anne MacColl said: "Our food and drink exports are at an all-time high, and these latest figures show Scotland's world-class premium quality food and drinks are increasingly in demand across the globe.
"Scottish salmon is internationally regarded as being amongst the highest quality in the world, and is rapidly becoming the product of choice in the Far East. Growth opportunities in these fast-growing markets are significant.
"We want to encourage companies to take advantage of this and, in doing so, deliver long-term sustainable growth for Scotland's economy."
Rural Affairs Secretary Richard Lochhead said he was pleased that exports had increased once again.
He said: "The vast majority of the Scottish salmon exported to the region is fresh salmon, underpinned by its increasing popularity for use in sushi-style foods, which further demonstrates that top chefs regard it as a premium and high-quality product."
business@thecourier.co.uk