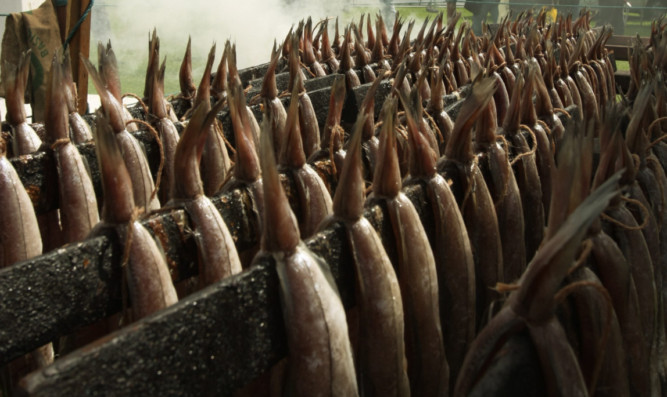 The parent company of Arbroath smokie producer RR Spink has taken a fresh multi-million-pound financial hit despite reducing overall losses.
The latest accounts filed by Dawnfresh Holdings show turnover across the group, which also owns the Daniel's herring brand and is one of the UK's largest suppliers of trout, had plunged by more than £10 million in the year to March 31.
Total group revenues decreased by 21% from £48.4m in 2011 to £38.2m last year.
Overall losses sustained by the group headed by chairman Alastair Salvesen, who has provided £11m of funding to the company through a loan reduced in the period from £6.8m in 2011 to £4.5m.
The firm's overall workforce also dropped significantly in the year from a total of 641 staff in 2011 to 506 a year later, a move which helped cut almost £2.5m off the overall wage bill for 2012.
In a statement to the accounts which were signed off last month, Mr Salvesen conceded the financial performance for the year was "very disappointing" but said continued investment was being made in the business to exploit market opportunities.
"The loss has been reduced from £6.9m to £4.5m as margins were boosted by trout price increases achieved during the previous year and a number of cost-cutting measures," Mr Salvesen said.
"The economic environment remained extremely challenging, with rising costs and an extremely competitive retail market.
"These factors prevented further progress being made towards profitable trading."
Mr Salvesen said the company remained financially secure because of significant support from shareholders and said Dawnfresh was well placed to capitalise on opportunities once the economic climate improved.
In the year to the end of March, the company invested £1.9m in the business, the majority of which was in relation to upgrading recently acquired trout farm operations, taking the overall spend in the past two year period to in excess of £5m.
Mr Salvesen said: "Although our financial results have been very disappointing, our main focus has continued to be our customers, to whom we have maintained a high level of service throughout.
"Our facilities are now at a higher standard of readiness to meet their demands than ever before.
"The continued focus on reducing our costs and expanding our product offerings to this customer base has helped the business to gain further retail listings and extend its trout export business since the year end."
RR Spink & Son can trace its roots back to 1715. The current incarnation of the business is based at Kirkton Industrial Estate in Arbroath.
The firm, which boasts a royal warrant as an official fishmonger to the Queen, has played a major role in building the Arbroath Smokie brand and the delicacy now has protected status in the same manner as that afforded to champagne and parma ham.
business@thecourier.co.uk