 The 2015 Oxford Farming Conference, which gets under way on Wednesday, seeks to champion ambitious agriculture and test the notion that industry success is ultimately home grown.
There will be a focus on what gives UK farmers the edge in terms of an increasingly competitive global market, and an exploration of sharply opposing views on intensive farming.
The conference prides itself on delivering innovative thinking and, at the same time, is one of the foremost national bodies offering a modern philosophy of agricultural production, the management of land and, critically, the role of the farmer in wider society.
These, however, are not new quandaries.
The definition of the role of the farmer in particular has been central to most of the 20th Century and is still a live issue.
However, it is worth pondering what analysis, opinion and encouragement has been presented to give the farming industry a sharper, more accessible and defined profile.
George Henderson, writing about the 1920s and expanding on his own agricultural career thereafter in The Farming Ladder, offered a fascinating template of the recipe for success: hard work, experience, and the accumulation of knowledge.
When his book was first published it acquired a readership hungry for a philosophy, and progressively gained a reputation as a benchmark for enterprising farmers.
Henderson, perhaps anticipating the theme of the conference, set out an ambitious programme for himself:
* To be a farmer in five years (he achieved it in four);
* To be a tenant farmer and an owner-occupier in seven years (he achieved both within 10 years).
* To become a landlord with tenanted farms (which became a reality within 15 years of starting to farm).
Initially he undertook a range of paid jobs in Essex and the peaks of Derbyshire, where he mastered dairying, poultry and bee-keeping, hedge-laying, hill sheep and man management, and at the same time acquired a lasting and unshakeable respect for the skills of shepherds all essential preparation for his first venture into an enterprise at Oathill in the Cotswolds with his brother Frank in the 1920s.
On this 85-acre unit, which he rescued from terminal decline, he adopted a highly intensive form of mixed farming and production on limited capital.
The focus was on multiple enterprises cattle, sheep, poultry, pigs and arable to feed the land, build up fertility and ensure the business grew out of profits.
"Nothing was sensational in our methods; just good straightforward mixed farming and useful stock, and a full use made of the land, and our opportunities," he said.
Henderson's respect for the land as a definable and integral part of agricultural production is a theme to which he regularly and passionately returns in The Farming Ladder.
He defines the Agricultural Holdings Act, which gave tenant farmers the freedom of cropping, as offering "the freedom to rob their holdings, robbing themselves in the long run, for the preservation of fertility is the first duty of all that live by the land"; in essence, leave the land better than you found it.
Intensive production, which Henderson espoused passionately, will be questioned by Guardian columnist George Monbiot, a fierce critic of this method of farming, at this week's conference.
But that does not detract from some of his core beliefs. George Henderson was not prone to be unduly influenced by what he termed "second-hand opinions absorbed from the daily paper" and that is why, when he began his Cotswolds enterprise, he declined by buy a newspaper for the first five years.
He was content to learn from the direct experience of others, not least the Galloway shepherd he worked with in Derbyshire, "from whom I learned the age-old wisdom of the hills".
George Henderson was also convinced that farming would be best served by the encouragement and support of fresh blood not daunted by hard work or deterred by the challenges of a volatile industry.
"Never let any young man say there are no opportunities in farming. They are there all right, but mostly disguised as hard work," he wrote.
Worthy thoughts for Oxford this week?
Yes.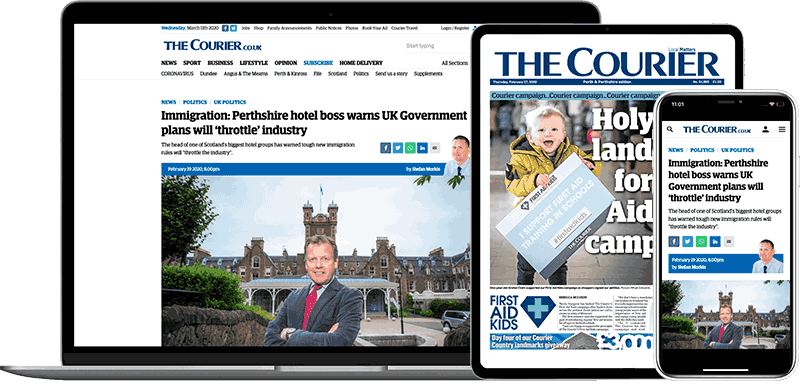 Help support quality local journalism … become a digital subscriber to The Courier
For as little as £5.99 a month you can access all of our content, including Premium articles.
Subscribe