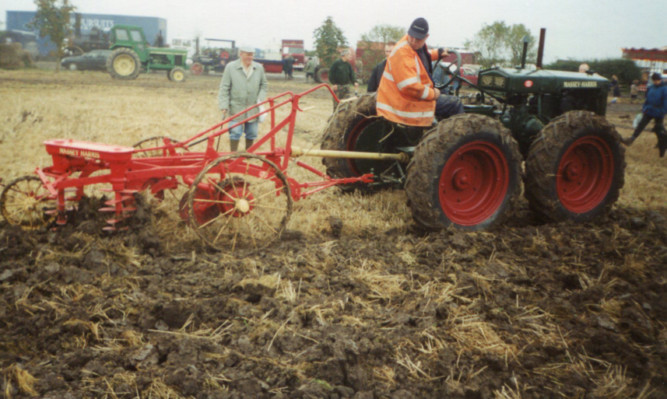 Courier Country farmers know progress when they see it, as the world's first mass-produced four-wheel- drive tractor found a great deal of favour in the fields of the region.
Canadian farm machinery giant Massey Harris launched their General Purpose tractor in 1930 as a four-wheel-drive machine capable of row-crop tasks and general belt pulley and draught work.
It was the first tractor they had designed themselves, although they had been selling a Parrett tractor and a Bull tractor early on.
In 1928 they bought the JI Case Plow Company, which included the Wallis tractors line which were integrated into the MH product line.
The good Wallis design lasted with MH until the mid-1930s, so the 1930 launch of the GP suggests Massey may have been working on its design before 1928.
It was fitted with a Hercules four-cylinder petrol engine which, with the addition of vaporiser, could be used as a petrol paraffin tractor.
It had four equal-sized steel wheels, with rubber-tired versions available later. The engine was mounted well over the front of the front axle, giving weight distribution close to the 60:40 ratio deemed to be the optimum figure although making it slightly unstable.
Despite its innovative design the tractor never sold in huge numbers in its native North America.
North American tractors were turned out in grey, while tractors shipped to the UK were dark green with red wheels.
It has long been thought the final production figure was 3,000 tractors, but leading MH experts believe the figure to be higher considering the number of survivors today.
The tractor was available until 1938 but it is thought production at the factory in Racine, Wisconsin, ended in 1937.
There were two different models, the first being fitted with a Hercules side valve engine until 1936, when a new Hercules OHV engine with a vaporizer fitted as standard was installed.
The OHV-engined examples are distinguished by the sloping bonnet.
The new versions were green with maroon wheels for all markets. The tractor came in several widths of a permanent nature. Initially it was 60", 66" and 76" wheel settings, while a 48" orchard model was released later.
The new model in 1936 had an additional 56" tread version, suitable for local potato crops.
Belt pulley and PTO were fitted as standard, with narrow skeletal wheels for row-crop work and full electrics offered as extras along with a range of implements.
The tractor was priced at £270 for its UK launch in 1931.
Implements included inter-row cultivators, hoes and planters, a mounted power-driven hay mower and the No 23 trailed plough, specially designed for the tractor.
With the exception of the plough, these implements had to be lifted mechanically by a power lift or a long handle and brute force.
Agents Mackintosh of Forfar developed a successful mechanical lift for this and subsequent MH tractors.
Companies such as Mackintosh had a part in the high numbers of Massey Harris GP tractors in this area, although Fordson, International and Case tractors sold in higher numbers.
As successful MH dealers during the 1930s their service complemented the innovative four-wheel drive, high-clearance and row-crop ability, making the tractor attractive to local farmers.
Farming at that time was still very mixed, with most farms growing root crops such as swedes, turnips, kale and mangolds, all grown on drills to feed livestock.
Potatoes were also grown in large acreages, much of them as seed.
The new sugar-beet crop also benefited from a row-crop tractor with good clearance.
The four-wheel-drive element was beneficial on some of the region's steeper land, and not least for pulling out heavy loads of turnips or beet in muddy conditions.
These design features, along with the Massey Harris reputation and the support of several dealers such as Mackintosh, helped find eager buyers.
Harry Mackintosh has listed many of the farms which used GPs during the 1930s and '40s.
The first one sold was the earlier type, to Lord Forres of Glen Ogil.
Others were sold new to Findlay of Bogardo, Mains of Balfour at Kingolderum, and Murdie of Baggerto, who also requested a Mackintosh lift.
Cowpar of Migvie bought a new one, later replacing it with a four-wheel MH Challenger in 1938.
Smith of Kinclune's new one lasted until 1948, when it was replaced by an MH 44K.
Second-hand examples were sold to Bennett of Arniefoul, who had two, and to Idvies, whose example came out of Mackintosh's contracting fleet.
These GP contracting tractors worked hard during the plough up campaign, with ploughing carried out on land adjacent to the River Garry at Blair Atholl.
Further examples noted on the north side of the Tay included a pair at Lochton at Abernyte, one at Kinpurnie and one at Scones of Lethendy.
Perhaps the most famous ones north of the Tay were the ones belonging to Sir Thomas Wedderspoon at Castleton of Eassie who had six in his fleet.
These were used in the potato crop.
They travelled great distances on spraying duties.
By 1942 they had been replaced by a pair of three-wheel Challengers, two John Deeres and a Caterpillar D2.
The late vintage tractor collector Ian Beverly had two in his collection that he acquired from the Bridge of Cally area.
The north of Fife had a high population, with the bulk sold by JBW Smith of Cupar, although George Baxter of Milnathort may have been responsible for selling others, along with several other concerns offering MH equipment.
The vast majority
of these tractors operated in the narrow strip of land between the south shore of the Firth of Tay and the River Eden.
Gibb of Fliskmillan had three for potato and sugar beet work, while Easter Kinnear had two.
Other examples were reputed to be at the Rhynd at Leuchars, Myrecairnie, Denbrae, Newcairnie, Kilmany, Craigfoodie and Hilton of Carslogie all near Cupar.
One was thought to have worked near Gateside, whilst a further two were at St Andrews and one at Caskerdo, Ceres.
Another Fife GP still survives locally today, and enthusiast Tom Turnbull has exhibited this machine for many years after buying it from former owners the Adams of Woodriffe near Newburgh.
The lapse of time has made establishing the true numbers of the tractors used in the area difficult. But with the possibility of at least the 37 accounted for here (see panel) it seems likely the thinking of a total production figure of 3,000 is a bit low unless the local farming population was so far ahead of the game!