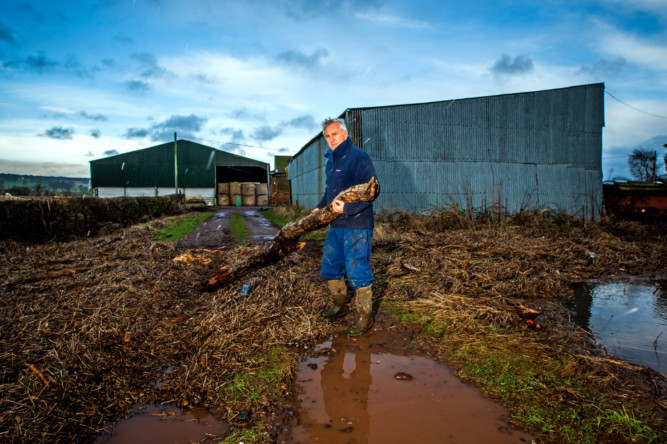 A Perthshire farmer who manages his farm to cope with regular flooding has hit out at Sepa for its inflexible approach to river management.
James Haggart farms at Haugh of Aberuthven, at the junction of the Ruthven Water and the Earn. Earlier this week a flash flood saw the Ruthven burst through banks and pour down into his fields and through farm buildings where it destroyed fertiliser and straw and soaked 150 tonnes of wheat.
Mr Haggart says the Scottish Environment Protection Agency's "negative, can't do" attitude to river management is now compromising farms and homes downstream.
"Sepa came out to look at a breach in the banks six weeks ago and suggested repairs which would have lasted less than ten minutes before they were washed away in the next flood," he said. "Their ideas might be fine if work's done in the spring or summer, but at this time of year you need to use whatever is available to protect land and property and I wanted to use concrete pillars and rubble, which they rejected.
"It's all very well for Sepa to say authorisation isn't necessary for small scale repairs, and we try to stick to the rules, but when you're trying to make urgent repairs you feel you're always looking over your shoulder.
"Unfortunately Sepa is better at advising farmers on what they can't do rather than what they can."
A Sepa spokesman said officers had been on standby to assist farmers and had responded to 89 queries in the last three weeks.
"In the Tayside area, we have not refused any requests for works, but we have advised on best practice to ensure works are effective and environmental impacts are minimised," he said.
"Regarding Mr Haggart's comments, we have provided advice on a range of different river work activities, however there is no policy preventing necessary works to protect land, farm buildings, or communities, from flood damage."
Mr Haggart says years of experience with regular floods at Aberuthven means he farms accordingly. It means he doesn't grow winter crops or keep sheep in fields anywhere near the river.
"We can continue to farm here so long as flood defences are secure and they are also good upstream of here," he said. "But we urgently need a good discussion about system management with all stakeholders, including Sepa, urban dwellers, farmers and landowners."
Sepa stated: "We welcome and agree with Mr Haggart's comments about the need for a range of catchment-wide solutions, and the need for partnership working."