 Global beef supplies are projected to remain tight over the next 12 months which will help to underpin producer prices, according to Stuart Ashworth, head of economics services with Quality Meat Scotland (QMS).
In GB total calf registrations between January and October this year were 1.5% higher than last year, while in Scotland the increase was a little less at 1%.
Mr Ashworth said: "While this increase in calf numbers is welcome it will be 18 months before this begins to be reflected in increased slaughter cattle numbers. In the shorter term our cattle databases indicate fewer cattle in the supply base.
"The fact that the UK and Ireland have comprehensive cattle databases makes it easier to assess future cattle supplies and changes in the sector's behaviour.
"The latest update of GB calf registrations, presenting figures to the end of October, highlights this fact.
"The data shows that over the first six months of 2014, GB beef-sired calf registrations increased by 0.8%, while Scottish registrations were unchanged.
"However by the end of October total beef calf registrations during 2014 in GB had increased by 1.5% and by 1.7% in Scotland.
"This may be an indicator of a switch back to autumn calving.
"Scottish beef calf registrations during September and October, for example, increased by more than 10% compared to last year.
"However, it may equally be linked to the final remnants of weather effects from spring 2013.
"Meanwhile dairy-sired calf registrations are higher than 12 months ago across GB as a whole, reflecting the reported increase in dairy cow numbers though dairy-sired registrations were down in Scotland.
"However, the number of cattle aged between 18 and 24 months of age on GB farms in October was down around 6% with the number of cattle aged between six and 18 months down 1% on year earlier levels.
"Meanwhile, data from Ireland shows a similar pattern with calf registrations in 2013 down nearly 5% but, like the UK, registrations began to run ahead of year earlier levels from March 2014.
"Similarly, most European countries reported fewer one to two-year-old cattle on their holdings in June 2014.
"Piecing together all this information, then, we can conclude that at local and European level the number of cattle available for slaughter will be lower in 2015 than 2014.
"Recent forecasts published by the United States Department of Agriculture estimate global beef production will be down just over 1% in 2015 compared to 2014.
"Only Brazil, of the major global producers, shows any significant growth in production up almost 3%.
"Other major suppliers to the world market United States and Australia are forecast to see production fall 2 and 6% respectively."
The Food and Agriculture Organisation of the United Nations (FAO) reports that global beef prices have risen by around 25% over the past 12 months and are at historic highs.
"The note of caution from the FAO, though, is that meat prices in general are only 13% higher than a year ago while cereal prices have fallen 6%.
"These relative movements in competing food prices may lead to some pressure on beef prices and the FAO data shows global beef prices little changed over the past three months.
"Nevertheless, the general tightness of global beef supplies over the next 12 months will help to underpin producer prices."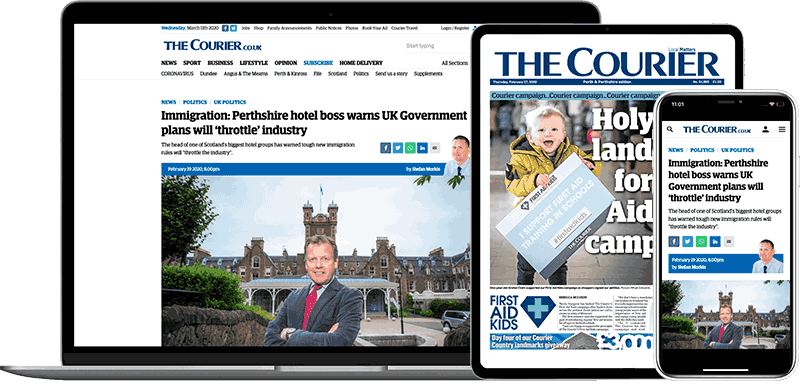 Help support quality local journalism … become a digital subscriber to The Courier
For as little as £5.99 a month you can access all of our content, including Premium articles.
Subscribe