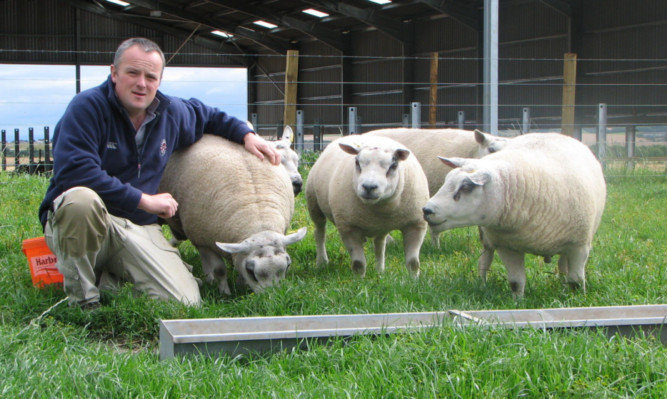 Easter Ross farmer John Scott shared his thoughts on how productivity and profitability on his farm have been improved, when he spoke to around 140 delegates at the QMS Sharing Best Practice conference.
Mr Scott is confident that the Scottish sheep industry has a bright future, providing the next generation of farmers can be inspired to focus on improving the areas within their control and avoid being reliant on a subsidy cheque for profitability.
His own sheep enterprise at Fearn Farm in Easter Ross, in partnership with his wife Fiona and his parents James and Janet, aims to maximise profit/ha through genetics and grassland management.
His main long-term ambition, however, is for his four children, and "to hand over the farm in a better condition than I received it".
The home farm extends to just over 1,000 acres, with 440 of that sown in winter and spring barley, potatoes and swedes.
He rents a further 300 acres of grazing five miles away and, along with wife Fiona, he also rents 2,600 acres of rough ground in Sutherland.
The farm in Sutherland supports 900 Cheviot and Cheviot cross ewes and 60 Luing suckler cows, while at Easter Ross there are 3,300 ewes and hoggs plus 130 sucklers, 65 of which are pedigree Shorthorn.
Mr Scott has searched far and wide for the best genetics to improve his sheep and, alongside flocks of 150 pure Texels and 40 Beltex, 50 New Zealand Suffolks and 80 Aberfields are run.
He said: "New Zealand Suffolks are heavily selected for ease of lambing and vigour; they can cover more ewes and produce more live lambs than some of the traditional breeds.
"They are lighter boned, too, so I tup hoggs successfully and while grades are not quite as good as using a Texel or traditional Suffolk, I can get more lambs to R3L faster, producing more kg/ha, which is what I am after."
Fearn supports the only flock of Aberfields in Scotland, and John has been impressed with them so far.
They are a hybrid of Texel and Bluefaced Leicester which have been developed by Innovis, and the Fearn flock was derived from an extensive embryo transfer programme.
The Scotts have been using the tups on Cheviot ewes to get a different type of Cheviot mule which is prolific and hardy but produces a superior carcase.
The attention to detail at Fearn includes recording all the sheep flocks.
This is a lot of work but EID helps and Mr Scott finds it an important tool to make sure there are no ewes or rams under-performing in the flock.
For the last few years he has held a Great from Grass on-farm sale for his tups which has seen good prices across the breeds for the 70 or so shearlings and ram lambs sold.
The cattle enterprise is based on carefully selected Shorthorn cows, and Mr Scott believes the future is in easily-fleshed, moderately-sized, efficient cows which are economical to keep and rear quality calves.
He said: "We must deliver a consistent eating experience and give consumers confidence in our product.
"We have fantastic products in Scotch Beef, Scotch Lamb and Specially Selected Pork, but we have to continue to deliver the quality along with assurance in order to engage more with consumers."
His own male calves are kept entire and finished at 13 months, when they are sold to ABP.
Aound 15 bulls are sold for breeding each year, and last week at Stirling Bull Sales he sold Fearn Godfather for 10,000gns.
Heifers which are not retained as replacements are either sold for breeding or finished and sold to Woodhead Brothers. Mr Scott often takes ideas from experts, professionals and farmers from other parts of the world and adapts them to suit his system.
He said: "It is important that farmers are open-minded. Too often we hear someone from another country speaking and immediately put up a barrier, thinking that would not work in Scotland, but often systems can be adapted to our own situation. We must focus on content not accent."
He added: "We are not a big industry in global terms, but what we have in Scotland is a wealth of talent within stockmen and women, which I believe should be tied in with research into genetics, husbandry and grassland management.
"Sadly we have become a generation of farmers whose aim has been to maximise subsidy.
"Now we must refocus on lifting profitability by improving the factors we can control, such as raising scanning percentages and reducing lamb losses or winter feed bills."
Mr Scott added: "For us, it was great to win the Farmers Weekly Sheep Farmer of the Year award, but now we need to reach the next level.
"To do this we have to challenge ourselves and everyone else involved in the business, from the staff to the advisers to the bank manager, but challenge in a positive way."
Mr Scott places a lot of importance on managing the two full-time and one part-time man on the farms.
He said: "It is crucial to keep them motivated and enthusiastic and they are always included in learning meetings such as the Easter Ross Grazing Group which the farm joined six months ago."
Mr Scott is on the board of QMS and chairman of the Scottish Sheep Industry Group, run by QMS, and is inspired by the farmer events.
The challenge, he reckons, is to get the message across to those who stay at home and this should be done through whoever they listen to, whether it be a vet, sales person or adviser.