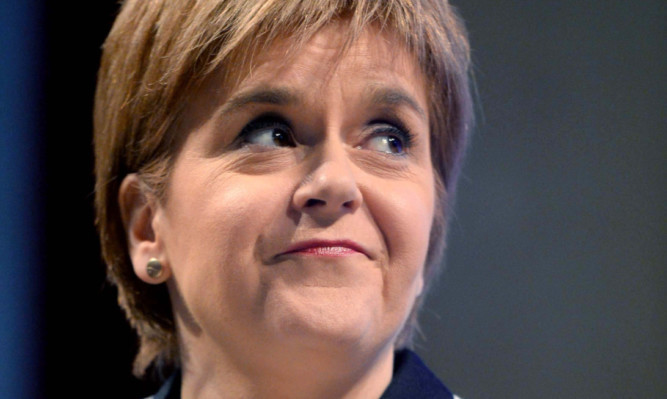 The farm payments log jam finally broke last night with the announcement that £200 million of national funds are to be used to underwrite EU support from the end of March.
First Minister Nicola Sturgeon made the announcement ahead of a meeting with NFU Scotland (NFUS) where she confirmed that any farmers and crofters who have not received a first instalment of EU support by the end of March will automatically receive a cash advance worth 80% of their CAP claim.
The support will be offset against the claimant's CAP payment once it is processed.
Ms Sturgeon said she recognised the cash flow issues facing Scottish agriculture.
"The transition to a new, more complex CAP that is affecting payment schedules right across Europe is happening as farmers and crofters are dealing with poor market prices and challenging weather conditions," she said.
"We are less than half way through the payment window allowed by Europe, and the majority of Scottish producers more than 10,000 have already received a subsidy payment.
"However, payments are not being made as quickly as we would like.
"The Scottish Government has earmarked up to £200 million of national funds so that any farmer or crofter who has not received an instalment by the end of March receive a nationally-funded payment from the Scottish Government in April."
Rural Affairs Secretary Richard Lochhead said the announcement meant Scottish Beef Scheme payments would be made in the middle of April as usual.
NFU president Allan Bowie welcomed the First Minister's intervention, but stopped short of announcing whether the union's planned rally at Holyrood tomorrow would go ahead as planned. A decision is expected today.
He said: "Finally we have clear timelines drawn when all basic payment scheme claimants will receive the majority of their claims; when hill farmers and crofters will receive the majority of their Less Favoured Areas scheme money and beef payments have been promised in mid-April.
"The IT system which has failed to process CAP payments on schedule , funded by £180 million of taxpayers' money, desperately needs to be addressed and investigated and that must happen in due course.
"Not least, because the 2016 scheme is expected to open for electronic applications in a few days' time."
Scottish Conservative leader Ruth Davidson will today use her parliamentary time in Holyrood to call for an inquiry into the £170m IT system responsible for the last three months of delays and worry for Scottish agriculture.