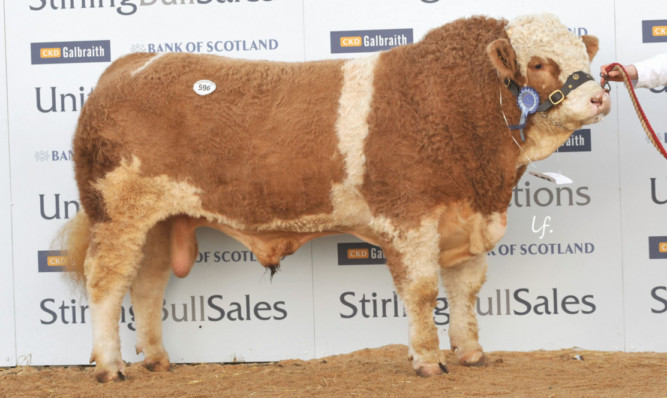 After an opening day without too many highlights, the second day of the Stirling October Bull Sales livened up as the Simmentals took centre stage.
There were plenty of transactions in the 8,000gns to 9,000gns range, with commercial buyers digging deep, but there was also a clutch of good five-figure transactions led by a 16,000gns bid from pedigree breeder Gordon Clark, Broombrae, Auchtermuchty.
This was for a second prize bull from Robin Boyd, Slievenagh, Portglenone, Northern Ireland, the producer of the day's overall champion.
Mr Clark's purchase, Slievenagh Emperor, is by Curaheen Apostle and had made up one half of this season's Ivomec pairs winner with the champion.
Emperor had also stood male of the year in Northern Ireland this year.
His Ivomec team mate Slievenagh Extra Special by Kilbride Farm Bantry had stood overall and junior champion at the pre-sale show, with judge Peter Burgess from Daventry saying he was an outstanding bull for his age.
Extra Special sold for 9,000gns to Clive Houdley, Kirtleton House, Lockerbie who earlier in the day invested heavily on female stock.
The average for the sale of bulls was £5,852 for 72 sold. This is up £211 on the 2013 sale when 79 changed hands.
British Simmental Cattle Society secretary Neil Shand described the sale as "pretty damn good", adding that it had been a good show of bulls and females, and that the breed was becoming increasingly popular because of its suitability for crossing.
He noted that commercial buyers had been prepared to pay five-figure sums for the right bulls.
Mr Shand had been expected to leave the society at the end of this week to take up a post with an agricultural machinery business in Aberdeenshire, but confirmed that he is now staying on.
The senior champion and overall reserve, Corskie Edgar from Iain Green, Corskie, Garmouth, made a healthy 13,000gns to Delfur Farms, Dendurcas, Aberlour.
Edgar is among the second crop of calves off Royal Highland champion sire Dirnanean Bradley, a 22,000gns Stirling purchase in 2012.
His first crop averaged 6,800gns.
Mr Green and his father Jimmy run 160 pedigree Simmentals and 350 commercial cows.
Near the end of the sale the Greens sold another Bradley son, Corskie Elton, for 12,000gns to Gordon Snowie, Innerdunning Ltd, Blairlogie, Stirling. They also received 11,000gns for Corskie Elvis by the privately purchased Greencap Ace. The purchaser was A & PA Hurn, Beck Farm, Calthorpe, Norwich.
Also knocked down at 12,000gns was a first prize bull from Mrs Hayley Clarke, Hevingham, Norwich.
The dark red Williams Eddie is by Clonagh Tiger Gallant and was junior interbreed at this year's Great Yorkshire and junior male champion at the Royal Welsh.
The buyer on Tuesday was D Leslie, Redhill, Mosstowie, Elgin.
The intermediate champion Drumsleed Eldorado from Gerald and Morag Smith and son Douglas from Drumsleed at Fordoun fetched 11,000gns, heading north to his new home with DN Campbell, Bardnaclaven, Thurso.
Eldorado is by the 11,000 euro Auroch Ace and was reserve male at Fife and Angus this summer.
The reserve junior champion was also to trade at 11,000gns. Islavale Ensign from Stewart Stronach, Berryley, Keith, is a son of the 8,000gns Chestermann Varney and was junior champion at the breed national show at Turriff in August. His new owner is Mr B Grant, Druids Temple, Inverness.
Hector Macaskill, Woodhall, Dunbar, sold his fourth prize Woodhall Energise to GT & S Coghill, Muce, Birsay, Orkney, for 10,200gns. This one is by Raceview All-Star.
Simmental champions were as follow.
The judge was Peter Burgess, Tilbrook, Daventry.
Senior and overall reserve: Jimmy and Iain Green, Corskie, Garmouth, with Corskie Edgar by Dirnanean Bradley.
Senior reserve: Jimmy and Iain Green with Corskie Damario by Greencap Ace.
Intermediate: Gerald and Morag Smith, Drumsleed, Fordoun, with Drumsleed Eldorado by Auroch Ace.
Intermediate reserve: Hector MacAskill, Woodhall, Dunbar, with Woodhall Eveready by Omorga Volvo.
Junior and overall: Robin Boyd, Slievenagh, Portglenone, Northern Ireland, with Slievanagh Extra Special by Kilbride Farm Gantry.
Junior reserve: Stewart Stronach, Berryleys, Keith, with Islavale Ensign by Chestermann Varney.
Female: Mr and Mrs D Pick, Cottage One, Scarthingwell, North Yorkshire, with Scarthingwell Damselfly by Heywood Andrew.
Female reserve:
Mrs H Clarke, Model Farm, Hevingham, Norwich, with Williams Malvenas by Heathbrow Tristar.