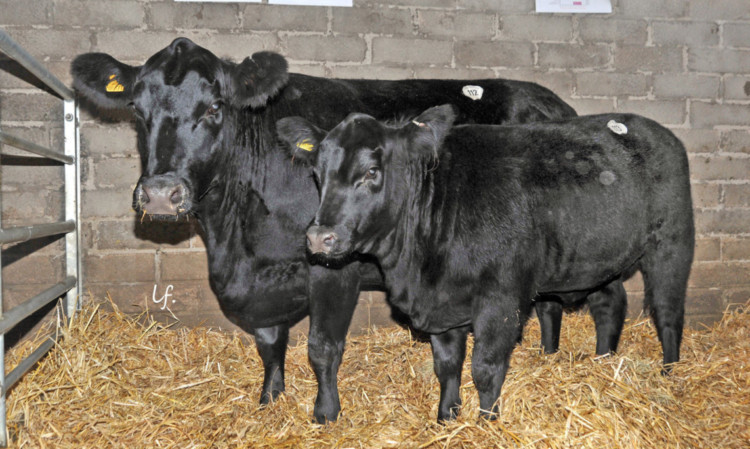 A new record price of 33,000gns was set for an Aberdeen Angus cow and calf at Stirling Bull Sales during the dispersal of Robin Orr's Halbeath herd from Dunfermline.
The five-year-old cow Halbeath Pam by Idvies Elmonarch was sold separately from her calf and made 21,000gns in a joint deal to Richard Rettie, of Forestmill, Alloa, and Donald Rankin, of Kilmaluag, Skye.
Her February-born heifer calf by Duncanziemere Edwin made 12,000gns to Alastair Fraser, of Idvies, Forfar.
Robin, Nancy and daughter Caroline, were thrilled with the trade, which saw 64 females of all ages average £3,854.
Robin said: "The Kim of Fordafourie and Netherton Pam bloodlines were much sought after.
"We are absolutely delighted that so many of the cattle have gone to good pedigree herds."
Halbeath Pam bred the Stars of the Future champion in 2012 and Richard Rettie, who had helped Robin get the herd ready for sale, said that was one of the reasons he wanted her for his herd of 23 cows.
Donald Rankin is a relatively new breeder on Skye and he was also keen to buy into a new bloodline.
Last year's Stars of the Future champion, also Halbeath Pam and a full sister to the 12,000gns calf, made 11,000gns to Bill Bruce, of Logie, Ellon.
He also paid 4,200gns for the yearling, Halbeath Kim by Duncanziemere Edwin.
Another yearling heifer, Halbeath Belle by Ankonian Elixir was knocked down for 9,500gns to Finlay McGowan, of Incheoch, Alyth.
He was buying on behalf of his daughter Clare, who has five cows in her Inchisla herd but is currently in New Zealand attending the World Aberdeen Angus Forum.
Three lots were doubled up in the sale with the vendor having his choice while the other was retained by Caroline to start up the new Keirsbeath herd.
She has kept some of the crucial bloodlines and has plans to introduce a few more but to keep the herd small and manageable as she has just started a new job as an agricultural officer with the department in Edinburgh.
Halbeath Kerry, another 2012-born heifer by Edwin, made 7,200gns to Northern Irish breeder Jonathon Doyle, while the three-year-old Halbeath Kitty by Idvies Elmonarch went with her bull calf for 7,000gns to M R McCornick, of Boreland, Newton Stewart, who bought a further two females.
Paul Robson, of Chathill, Northumberland, also paid 7,000gns for the seven-year-old Halbeath Kitty with her bull calf.
No less than 11 females were purchased by Galway breeder Des Donegan, of Doon House, while seven were knocked down to M F Bissett, of Court House, Reading.
Other multiple buyers included Highland Wagyu, Blackford, and Brailes Livestock, Banbury.
Outwith the dispersal, Angus females sold to 26,000gns for a cow and calf from John Elliot, of Roxburgh Mains, Kelso, to Gordon Brooke, of Upper Huntleywood,
Earlston. John said Rawburn Joy Erica by Rawburn Extra Edition has been one of the most influential cows in the herd and possibly one of the best they have sold at auction.
The Rawburn herd was also responsible for the second top price of 8,000gns for Rawburn Ellen Erica by Rawburn Elmer to T A Johnson, of Clarence House Farm, York.