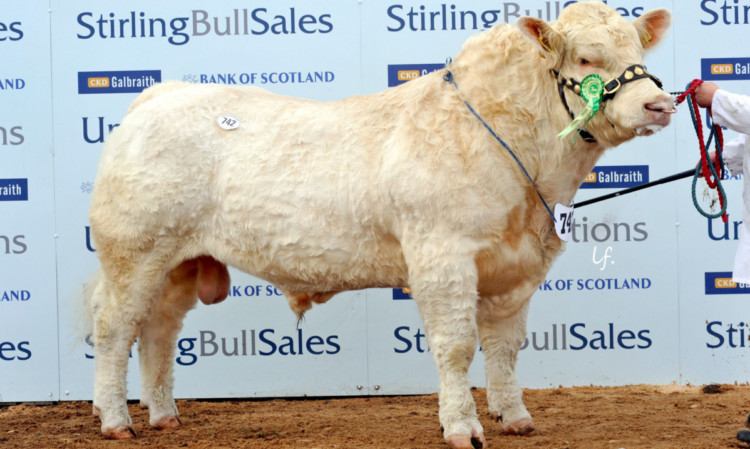 CHAROLAIS BULLS sold well at Stirling Bull Sales, backed by a strong commercial demand.
As with other breeds this week, there was selective buying to a budget but the difference with the Charolais was the budget was less stringent.
Noting buyers were willing to go that little bit further than they were with other breeds, British Charolais Cattle Society (BCCS) chief executive David Benson said the bigger prices paid for Charolais sired stores was largely responsible.
He estimated thanks to a combination of weight and early growth, these calves could be worth £150 to £190 more than calves sired by rival breeds.
By the time the last bull had left the ring yesterday, 92 Charolais had been sold to average £6,578.
This represented a drop of £1,121 on the year and a clearance rate of 65%.
Auctioneers John Roberts and David Brown, who had shared rostrum duties during the sale, noted commercial buyers had been bidding freely up to 10,000gns for bulls which would suit their purpose.
Many of the bulls would not be used until the spring but this did not seem to be a deterrent.
BCCS chairman Alasdair Houston said: "It may cost an extra £200 to feed a bull over the winter but if it can be bought 4,000gns cheaper in October, the maths are not hard to work out".
The sale leader came yesterday from Bill Bruce, of Balmyle, Meigle with his third prize bull Balmyle Headline.
Quickly bid to 22,000gns, it was knocked down to businessman Danny Sawrij for use in his Swalesmoor herd based at Eaglesfield, Dumfries.
Headline is by the 9,000gns Stirling purchase Maerdy Egret and out of Balmyle Uptowngirl, a daughter of the 28,000gns Perth champion Brampton Nacador.
Michael Massie, Maims of Elrick, Ellon had the next best price fetching 17,000gns.
Elrick Highlander is off to do pedigree work with Wights at Midlock, Crawford. He is by the 11,000gns Maerdy Dublin, a sire which has bred sons to 22,000gns for Michael's father Neil at Blelack.
The 15,000gns level proved popular, attracting three transactions.
The first was early in the sale when Mike and Margaret Atkinson, of Parkfield, Ripon, parted with Mowbraypark Hercules.
The buyer was JAC Campbell, of Mayfield, Thurso. Hercules is by Klibreck Ecosse, a bull bred in Caithness by Ian McKay
The next at the price came soon after with breed society chairman Alasdair Houston, of Gretna House, Dumfries selling to Hamish Goldie, South Bowerhouses, Dumfries.
Gretnahouse Heman is an AI son of Blelack Digger, a sire noted for producing easy calving offspring. Heman's grand dam is Balmyle Paradise, founder of a dam line which has produced bulls at up to 25,000gns.
The last of the 15,000gns threesome was the junior champion Goldies Hotspur from Hamish Goldie. Hotspur is by the Dingle Hofmeister son Goldies Elation and sold to Mill, Caithness.
The overall champion from Darren and Donna Knox, of West Fen, March, Cambridge sold for 14,000gns, leaving the couple elated.
They hail from Co Fermanagh in Northern Ireland but Darren works as a manager of a large scale beef lot on the fens.
They only have six cows in a herd founded in 2007 and this was their first-ever Stirling excursion.
Their bull, the Holtstead Cracker son Culford Hector, was bought as a calf-at-foot with his dam at two weeks of age. He was bought yesterday by A and D Renwick, of Keppoch, Dundonnell, Wester Ross.
Roy Milne and sons James, Matthew and Sam from Kennieshillocks, Elgin also had a good day, selling at 14,000gns, 9,000gns and 6,200gns.
Their 14,000gns bull, Elgin Highlander, was third in his class at the Royal Highland and is by the 10,000gns Thrunton Alpha. The buyer was Ian Hepburn, of Northhouse, Hawick and Highlander will be used for pedigree and commercial work.
Other leading prices: 12,000gns, Barons Cross Charolais Stud, Hereford to B Buchan, Clinterty, New Aberdour for Charbron Heredity by Goldies Unbeatable.
11,000gns: Jim McMillan, Craigmore, Farnell, Brechin to W Mathers and Sons, Shandford, Brechin for Dunesk Hero by Blelack Digger.
10,500gns: AK Brooke, Carscreugh, Newton Stewart to Easter Tulloch Ltd, Laurencekirk for Carscreugh Hernando by Goldies Banker.
10,000gns: Neil Massie, Blelack, Aboyne to Alex Bayne and Son Drumness, Auchterarder.
epate@thecourier.co.uk