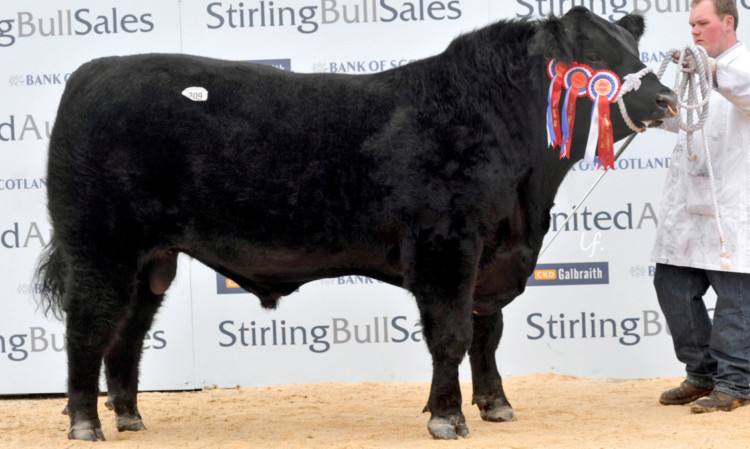 The February Stirling Bull Sales opened with shows of Aberdeen-Angus and Shorthorn bulls and sales of females from both breeds.
A full ringside of spectators made largely favourable comments about a line-up of quality bulls, with fewer categorised as "tail-enders".
The overall Aberdeen-Angus championship went to a delighted Tom Arnott, Haymount, Kelso, and his sons Jack and John.
The Haymount herd has won October championships in the recent past but this is the first February championship for the family since 1977. The herd, run by the fourth generation of the family, consists of 100 cows.
Yesterday's champion was one of 13 bulls consigned by Haymount for sale.
Haymount Precursor, already standing intermediate champion, is by Blelack Prince Carl, a 10,000 gns purchase at Stirling in February 2011.
Prince Carl's dam sold for 12,000 gns at the Blelack reduction sale in 2012.
Precursor is out of the Tonley Elgin daughter Haymount Progina.
The reserve overall yesterday was the senior champion Wedderlie Ebsolution from John and Marion Tilson and daughter Wanda Hobbs from the 100-year-old Wedderlie herd at Gordon in Berwickshire. Ebsolution is by stock bull Nightingale El Paso, a private purchase as a yearling four years ago.
His dam, Wedderlie Ebronte, is regarded by the Tilsons as one of the best breeding cows in the herd.
There is to be an open day on August 16 to celebrate the herd's centenary.Yesterday's judge Ian Campbell from Thrunton, Alnwick, is better known in the Charolais world, although the family also has a 20-strong herd of pedigree Aberdeen-Angus.He said he had thoroughly enjoyed his stint in the ring, adding: "The top end was very good, especially the two champions. The junior bull was the first choice, though, because it had a better head and more style."
His choice of female champion was easily vindicated in the sale ring in the afternoon with Neil Wattie, Mains of Tonley, Alford, selling the 22-month-old Tonley Elma M850 for 8,500 gns to Harry Emslie, Braes of Coynach, Mintlaw.
She was sold in-calf to Tonley Emmerson.
Elma is by Rawburn Enigma and out of Tonley Elma C160.
Four of her previous heifers have been retained within the herd.
John Elliott and son John, of Roxburgh Mains, Kelso, saw the next best price with one of their draft of four females selling for 5,800 gns to Mr Robson, Northern Ireland.
In-calf to Rawburn Transformer, the 32-month-old Rawburn Blackbird is by Rawburn Double Oseven and out of Rawburn Black Beauty.
The Eliotts also sold twice at 5,000 gns. The six-year-old Moss Felicia, bred by Mr and Mrs John Moores, was sold in calf to Rawburn El Cordobes and is off to join Des Donegan's herd at Doon House, Galway.
Highland Wagyu, Burnside of Balhaldie, Dunblane, bought the second of the 5,000 gns heifers. The two-year-old Rawburn Duchess Prairielane is by Rawburn Elmer and out of a previous Rawburn Duchess Prairielane.
She was sold in-calf to Rawburn El Cordobes.
The sale saw 18 females sold to average £3,435, a drop of £44 on the year. The clearance rate was 82%.
Aberdeen-Angus champions:
Senior and reserve overall: JH and HM Tilson, Wedderlie, Gordon, with Wedderlie Ebsolution by Nightinglae El Paso.
Senior reserve: JF Lascelles, Balmachie, Carnoustie, with Balmachie Black Bard by Balmachie Black Bear.
Intermediate: Robbie Galloway, Cardona, Doune, with Cardona Fergus by Nightinglae Dunbar.
Intermediate reserve: Alan Lawson & Son, South Farm, Hallington, Newcastle, with Hallington Edition by Nightingale Proud Jake.
Junior: J&W Arnott, Haymount, Kelso, with Haymount Precursor by Blelack Prince Carl.
Junior reserve:
J Gilmour & Co Ltd, Penston, Macmerry, with Belhaven Perthshire by Oakchurch Field Marshall.
Female: Neil Wattie, Mains of Tonley, Alford, with Tonley Elma by Rawburn Enigma.
Female reserve: James Porter, Old Glenort, Upper Ballinderry, Lisburn, with Old Glenort Precious Pollot by Luddenmore Eclipse.