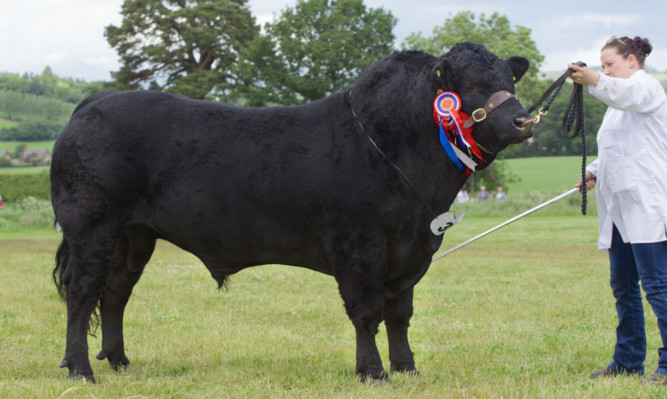 Alyth Show had the best of the weekend's weather and its recently adopted site at Bogie's Field on the outskirts of Blairgowrie once again proved ideal as a show field.
Alyth was one of the shows most affected by the Royal Highland's move to a slot one week earlier than usual for this year and last.
The Alyth committee had no alternative but to move to the Saturday after the Highland rather than the Saturday before.
This undoubtedly affected livestock numbers, with the cattle lines in particular notably depleted. The good news, however, is that the Highland is to move back to its traditional week allowing Alyth to state its intention to do likewise.
The pre-Highland slot was popular with exhibitors keen to give their stock show ring experience and no doubt this will prove to be the case again.
The supreme cattle champion, as selected by judge Walter Wyllie from Ballinluig, was a black-coated Limousin bull from Katherine Lawson and her father William from Windsole near Auchterarder.
Windsole Black Indigo is a two-yearold AI son of Tamarvalley Bocastle, one of the earliest black Limousin sires in the UK.
Mr Wyllie said: "The Limousin was the best balanced animal in the ring and very well shown."
His reserve was the commercial cross cattle champion from Wilson Peters, Cuilt Farmhouse, Crieff.
This was a 14-month-old Limousin cross bullock named Helluva-stoat.
Windsole Black Indigo also emerged as show champion of champions against the supreme sheep and the supreme light horse. The decision was made on a points system.
The light horse leader was a stylish Arab shown in-hand by Victoria Mylius and her 14-year-old daughter Rosie from St Fort, Newport-on-Tay.
The eight-year-old Maythornes Easter Dimension is by Tusop Dimension and was a National Pony Show champion and a first prize winner at this year's Royal Highland.
The supreme sheep, judged by Jim Farquharson, Errol, was a Suffolk ewe from Christine Croal's Hollycroft flock. Her Birness Black Jack sired gimmer was her first ever champion.
The reserve sheep came from one of the UK's most striking and rarest breeds, the Kerry Hill.
The Morris family at Over Buttergask, Coupar Angus, have 22 of these sheep and their winner was a ewe bought from Welsh breeder GW Roberts at Carlisle last year.
The sheep pairs contest was won by a Texel duo from Alistair and Tom Greenhill, Westhall, ahead of North Type Blackfaces from Cadogan Estates, Amulree.
The Friendship Cup for beef pairs was won by Tom Rennie, Mosston Muir, Forfar, with his Aberdeen Angus champion and reserve, followed by Simmentals from Heather Duff, Pitmudie, Brechin.
The native cattle championship, the
Donald Lawrence Trophy, also went to Tom Rennie with his Aberdeen Angus bull Mosstonmuir Mr Angus with the Shorthorn heifer Eastmill Meadowsweet Hazel from Doldy Farms, Glen Isla in reserve.
farming@thecourier.co.uk RESULTS
CATTLE Aberdeen-Angus: Tom Rennie, Mosston Muir, Guthrie, Forfar, with five-year-old bull Mosstonmuir Mr Angus by Hoff First edition and out of Coldstream Miss Annie. Champion at Angus and Stirling. Reserve: Tom Rennie with five-year-old cow Mosstonmuir Tidy Bee by Mosstonmuir Innes and out of Mosstonmuir Belinda. Second at Angus and champion at Great Yorks 2014.
Beef Shorthorn: Doldy Farms, Eastmill, Glen Isla, with 14-month-old heifer Eastmill Meadowsweet Hazel by Glenisla Dr Who and out of Dunsyre Meadowsweet 8th. Reserve champion at Angus. Reserve: Doldy Farms with 14-month-old heifer Eastmill Lovely Heather by Glenisla Dr Who and out of Eastmill Lovely Expression. First show outing.
Highland cattle: D and B MacNaughton, Centre St, Kelty, with two-year-old heifer Skye 4th of Rannoch by Fergus of Bute and out of Skye 1st of Rannoch. Reserve: D and B MacNaughton with yearling heifer Hayley of Rannoch by Connor of Lagg and out of Hayley of Earn.
Charolais: Edward Scott, Linross, Glamis, with four-year-old cow Linross Farm Gabby by Newhouse Excalibur and out of Newhouse Audrey. First time shown. Reserve: Edward Scott with the champions seven-month-old heifer calf-at-foot Linross Farm Joy by stock bull Goldies Hobnob.
Cross cattle: Wilson Peters, Cuilt Farmhouse, Monzie, Crieff, with 14-month-old Limousin sired bullock Helluva-stoat. Out of a Limousin cross British Blue cow and second at Fife. Reserve: I and G Grant, Bank of Gallery, Montrose, with a March-born calf by the British Blue sire Cromwell Fendt and out of a Limousin cross British Blue dam. Best bred by exhibitor at Angus.
Simmental: Heather Duff, Pitmudie, Menmuir, Brechin, with 20-monthold bull Overhill House Eragon by Raceview All-Star KK and out of Woodhall Ada. Bought at Stirling in February for 7,800gns. Reserve: Heather Duff with four-year-old cow Cairnview Sonia by Cairnview Snazzy and out of Annick Sonia Whitney. Shown with a heifer calf-at-foot by Pitmudie Everest.
Limousin: Katherine Lawson, Windsole, Auchterarder, with the 25-month-old Windsole Indigo by Tamarvalley Bocastle and out of Windsole Siobhain. Interbreed at Fife and first at RHS. Reserve: I and G Grant with 19-month-old bull Gallery Idris by Wilodge Cerberus and out of Hollybank Oprah. An embryo purchased from Henry Savage's Trueman herd. Reserve at Angus.
Young handler Lyndsay Nelson, Lundie Farm, Edzell.
SHEEP
North Blackface: Cadogan Estates, Auchnacloich, Amulree, with home-bred three shear tup by a £13,000 Chamberwells and out of a 6,000gns Harkin. First outing. Reserve: Ben Mackinnon, Lynemore, Amulree, with a two crop ewe by a 6,000gns Harkin and out of a dam by a £3,500 Doldy. Champion at Alyth in 2014.
South Blackface: Tay and Torridon Estates, North Amulree, Amulree, with a home-bred one-crop ewe by an £11,000 Midlock and out of a £2,800 Dalchirla. Interbreed at Kirriemuir and champion at Perth in 2014. Reserve: Mark and David Simpson, Sidlaw, Blairgowrie, with a tup lamb by an £1,100 Dullater and out of a ewe by an Auchloy loan. Second at Angus.
Bluefaced Leicester: Alan McIntyre, Devol, Glenfarg, with a one-crop ewe by a Townhead sire and out of a ewe by Son of Magnus. Sire is a full brother to Ian Mintos's Kate. Bought at Castle Douglas. Reserve: Andrew and James Adam, Newhouse of Glamis, Forfar, with a home-bred two crop ewe by a Clennel sire. Alyth prize winner as a ewe lamb and gimmer.
Texel: A and T Greenhill, Westhall, Kellas, Dundee, with a three-crop ewe by Ettrick Rainbow Warrior. Sixth at RHS. Reserve: A and T Greenhill with a tup lamb by Tullylaggan Tonka out of a home-bred ewe.
Suffolk: Christine Croal, Hollycroft, Rattray, with a gimmer by Birness Black Jack and out of a home-bred ewe by Lakeview Leroy. Reserve at Alyth as a lamb. Reserve: Thomas Sands, Southfield, Abernyte, with a home-bred two-crop ewe by Glenarder Star. Second at Angus.
Cross sheep: JD Steele, Goddens, Glencarse, with a home-bred two-crop Beltex cross Texel ewe shown with her pair of April born wedder lambs by a Drumchapel sire. Reserve: David Black, Minard, Cortachy Rd, Kirriemuir, with a pen of three Texel cross gimmers bought from Pitnacree at Forfar and due to be sold at Forfar in the autumn.
Any Other Breed: Robert Morris, Over Buttergask, Coupar Angus, with a Kerry Hill ewe. Reserve at Alyth in 2014. Reserve: Steven Smith, Prosenhaugh, Cortachy, with a Beltex ewe lamb by Kingledores Statesman and out of Airyolland Peggy Sue. Full sister to last year's Alyth Champion.
Border Leicester: Robert Brown, Rose Cottage, Radernie, Cupar, with a shearling tup bought at Thainstone and by a West Forth sire. Third at Fife and fourth at RHS. Reserve: Robert Brown with a gimmer bought at Carlisle from Duncan Whyte.
Jacob: Barbara Webster, No 2 Cottage, Higham, Newburgh. With the home-bred two-shear tup Carrity Nairn by Carrity Jags. First outing. Reserve: Barbara Webster with the home-bred tup lamb Carrity Puceen sired by the champion. Third at RHS.
Charollais: Thomas Sands with a home-bred tup lamb by Kingsland Knock Out. Not previously shown, Reserve: Thomas Sands with a homebred two-crop ewe by Kingsland Knock Out. Not previously shown.
Young handler: Hugh Gordon, Clochnahill, Stonehaven.
NATIVE HORSES
Clydesdale: Scott Greenhill, Leuchars Lodge, St Michaels, with five-year-old yeld mare Macfin Ruby by Dourie Highlight. Bought from the Hannahs at Macfin in Northern Ireland. Her foal was first at RHS in 2014 but this is only her second time shown. Reserve: Sandy Aitken, Newton Cottage, Memus, with two-yearold filly Newton Glens Kiara by Muirton Sabre and out of Redcastle Pretty Amazing Grace. Champion of champions at Angus, champion at Royal Northern Spring Show and second at RHS.
Highland Ponies: Kate Lawson and Willie Sinclair, No 1 Kinaldie Holdings, Arbroath, with seven-year-old home bred mare Lochlands Musetta by Rignal Sassenach and out of Lochlands Madison. Sold as a foal and re-purchased only a month ago. Reserve: Willie Allan, Freuchie, with two-year-old filly Madeline of Whitefield by Glenmuir Lochaber and out of Mylene of Millfield. Second at RHS and reserve in the St John's Wells trophy paired with her half sister.
Shetland Ponies: William and Pauline Robertson, 32 Newhame Rd, Montrose, with eight-year-old yeld mare Hedderwick Red Ribbon by Sandown Emperor of St Ninians and out of Clashnadorran Review. Shown by Brook McDonald. Champion at Perth and Kirriemuir in 2014 and at the Winter Fair in 2013. Reserve: Ken and Anne Scott, Kellas, Dundee, with seven-year-old stallion Kerryston Theodore by Kerryston Kelly and out of Millhouse Emily. Champion at Neilston 2015 and a frequent prizewinner in previous years.