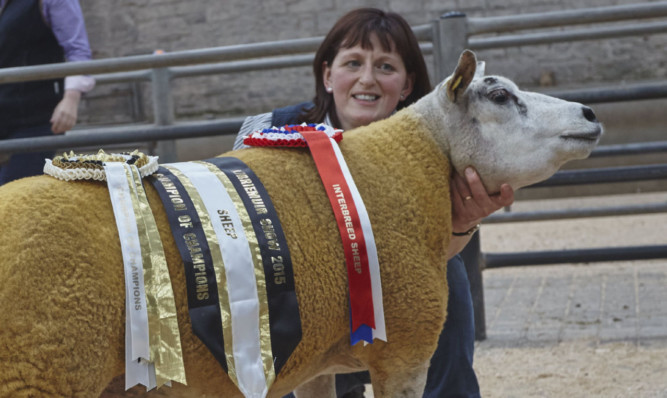 It was a case of "needs must" for Kirriemuir Show organisers during the run up to the 2015 event.
With the showfield at Muirhead of Logie too wet after around 45mm of rain on Thursday night the decision was made to salvage at least the cattle and sheep classes by moving them the five miles to Lawrie and Symington's Forfar Mart.
It is a tribute to the adaptability so often shown by the farming community that the event was not only moved at a day's notice but that it also ran very smoothly and attracted a good crowd of spectators.
Indeed after the judging had finished quite a few people commented that holding an indoor event at the mart wasn't at all bad.
The pens and walkways, which are fully health and safety compliant, were all in place as were the judging rings, the canteen and the toilets. It wouldn't be difficult to house the in-hand and native horse classes and the Forfar Mart exhibition hall could accommodate the craft show and Highland dancing.
On the other hand a home would need to be found for the mounted equestrian classes and inevitably it wouldn't quite be the Kirrie Show without the outdoor atmosphere.
It is something for Kirriemuir and District Agricultural Association chairman Robin Dandie and his committee to ponder but on Saturday his main concern and that of secretary Donna Leslie was to thank all those who had put in the effort to make sure the curtailed event went ahead.
Judge Ian Mathers, Kintore, presided over the interbreed beef competition. His championship choice was the three-year Charolais cow Glenericht Hester from father and son Peter and Allen Drysdale, Middle Drimmie, Blairgowrie.
She was shown with her first calf, a January born bull by Caylers Gladiator at-foot.
Hester was reserve breed champion and part of the reserve interbreed pairs at the Royal Highland last month.
Standing in reserve was the leader from a strong commercial section. This was a 22-month-old Limousin cross heifer from Wilson Peters, Monzie, Crieff. The junior bull champion was the 17-month-old McLaren's Blackjack from Wilie McLaren and daughter Lesley of Muirhouses, Kirriemuir.
The interbreed pairs saw Wilson Peter's commercials drawn out just ahead of Simmentals from Gerald and Morag Smith, Drumsleed.
In the groups of three the Smiths went one better taking the honours ahead of a Charolais trio from Major Walter, Balthayock, Glencarse.
The interbreed sheep championship at Kirrie is traditionally decided on a points system with all judges involved.
This year's winner was a four-crop Beltex ewe from Graham and Fiona Burke, Edzell.
The ewe, named Pentland Pacific and by Airyolland King Size, was shown on Saturday by Fiona and the win added to its breed championship at Fettercairn a fortnight earlier.
The reserve interbreed was a twoshear Suffolk ram from James Scott, Strathview, East Ingliston, Forfar.
The interbreed groups of four trophy was collected by father and son Gordon and Donald Mackie, Drimmie, Forfar, with a team of Suffolks.
RESULTS
CATTLE
Commercial Cattle: Wilson Peters, Cuilt Farmhouse, Crieff, with the 22-month-old Hoora-Effer, a Limousin cross heifer sired by Kype Elliot and out of a Limousin cross British Blue dam. Champion at Kirriemuir in 2014 and Fife this year. First at Alyth, fourth at RHS and second at Angus. Reserve: Graham Cameron, Wester Bonhard, Scone, with a March-born bull calf by the Limousin sire Cristl and out of a black Limousin home bred cow bought from Mackies of The Ross at UA Stirling.
Aberdeen Angus: Lois Scott, Linross, Glamis, with the 13-monthold bull Linross Pilot by Blelack Ever Great and out of Blelack Princess Candice. First time shown. No reserve.
Limousin: William, Katherine and Victoria Lawson, Windsole, Auchterarder, with the blackcoated bull Windsole Black Indigo by Tamarvalley Black Boscastle and out of Windsole Siobhain. Interbreed at Alyth and Fife. Breed reserve at Doune and Dunblane. Reserve: William, Katherine and Victoria Lawson with the 27-month-old in-calf heifer Windsole Ivy by stock bull Dylas Daf and out of Windsole Aster. First at Fife and Alyth, sixth at RHS. The 3,600gns Dylas Daf has bred sons to 11,000 gns.
Charolais: Peter and Allen Drysdale, Middle Drimmie, Blairgowrie, with the three-year-old cow Glenericht Hester by Moness Saltire and out of Balmullo Tina. Female and reserve overall at RHS. Reserve: Jimmy McMillan, Craigmore, Farnell with the second calver Dunesk Glory by Blelack Digger. Shown with her heifer calf by Balthayock Hamish.
Simmental: Heather Duff, Pitmudie, Menmuir with the young bull Overhill House Eragon by Raceview All Star KK and out of Woodhall Ada. Champion at Alyth, reserve at Fettercairn and second at Angus. Reserve: Gerald and Morag Smith, Drumsleed, Fordoun, with the 15-month-old bull Drumsleed Firebolt by 10,000gns stock bull Kilbride Farm Benone and out of Drumsleed Victoria. Reserve at Fife, third at RHS and first at Angus.
Highland cattle: Ranch Livestock, The Ranch, Letham, with the black two-year-old heifer Fraoch 19 of Ashmore by Gille Dubh 3rd of Craigowmill and out of Fraoch 9 of Ashmore. Shown by Graeme Easton. Reserve at Fettercairn, fourth at RHS. Reserve: Alun and Angela Garton, 4 Kildinny Cottage, Forteviot, with the 17-month-old bull Jura of Thaggnam by Fear Cinnidh of Ardura and out of Julie 13 of Craigowmill. Champion at Fife and male champion at Alyth.
Young handlers: James Adam, Newhouse of Glamis, Glamis. Reserve: Lynsey Nelson, Lundie, Edzell.
SHEEP
Suffolk: James Scott, Strathview, East Ingliston, Forfar, with the two-shear ram Red Brae Real Deal by Ardlee Atomic. Bought in Stirling for 1,000gns. Interbreed at Fettercairn, reserve at Angus. Reserve: Gordon Mackie, Drimmie Forfar.
North Type Blackface: Duncan Beaton, Newmill of Inshewan, Memus, Forfar, with a home-bred shearling tup by an Achnacloich sire and out of a ewe that goes back to a £3,000 Glendamph. First outing and to be sold at Stirling. Reserve: David Nicoll, Viewmount , Glen Isla with a one crop home bred ewe by a £9,500 Haughton and out of a ewe by a £3,500 Viewmount. First outing.
South Type Blackface: Tay and Torridon Estate, Amulree, Dunkeld with a one crop ewe by an £11,000 Midlock and out of a ewe by a £2,800 Dalchirla. Champion at Alyth and interbreed here as a gimmer. Reserve: William and Andrew Walker, Cramie, Glen Prosen, with a £10,000 gns shearling ram bought at Lanark with North Amulree, Lurgan, Lendrum Park and Spittal. By Islay Mist and out of a £30,000 Aitkenhead. Reserve champion at Angus.
Texel: Alistair and Tom Greenhill, Westhall, Kellas, with a three-crop ewe by Ettrick Rainbow Warrior. Champion at Fettercairn and Alyth and bought at the Select Seven sale as a gimmer. Reserve: Allan and James Alston, Chapelton of Menmuir, Brechin, with a home bred gimmer by a Strathbogie sire and out of a Cambwell ewe. Reserve at Fettercairn and Angus.
Beltex: Graham and Fiona Burke, Cairndrum Cottage, Edzell, with Pentland Pacific, a four-crop home bred ewe by Airyolland King Size and out of a ewe by The Rustler. Champion at Fettercairn. Reserve: Bryan Wylie, Balbrydie, Kirriemuir with a February born embryo tup lamb by Kingledores Rascal and out of Balbrydie Sunlight. Male champion and reserve supreme at Angus.
Any other breed: Andrew and James Adam, Newhouse of Glamis, Forfar, with a Blueface Leicester March born tup lamb by Kirkstead F1 which was bought at Kelso for £2,300 and out of a ewe by a Hartside sire. First at Alyth. Reserve: Andrew and James Adam with a Bluefaced Leicester ewe lamb by the same sire as the champion. First at Alyth.
Prime lambs: JD Steele, Goddens, Glencarse, with a pen of three Beltex sired 42.5kg Bletex sired lambs out of Suffolk cross ewes. Second at Alyth. Reserve: Callum Naismith, Balmaleedie House, Grangehall, Marykirk, with a pen of three Charollais sired 38kg lambs out of Texel cross dams.
Commercial sheep: Helen Smith, Scobshaugh, Cortachy with a pen of three ewe lambs sired by Blue d'Maine tup Calla Lookout and out of Beltex cross ewes. First showing. Reserve: JD Steele with a pen of three gimmers by a Beltex sire and out of Texel cross Beltex ewes.
Young handlers: Rachel Burke, Edzell. Reserve: Kirsty Neil, Carnoustie.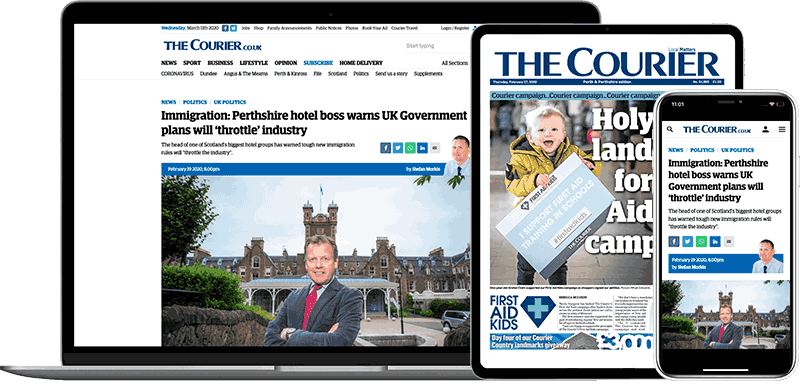 Help support quality local journalism … become a digital subscriber to The Courier
For as little as £5.99 a month you can access all of our content, including Premium articles.
Subscribe