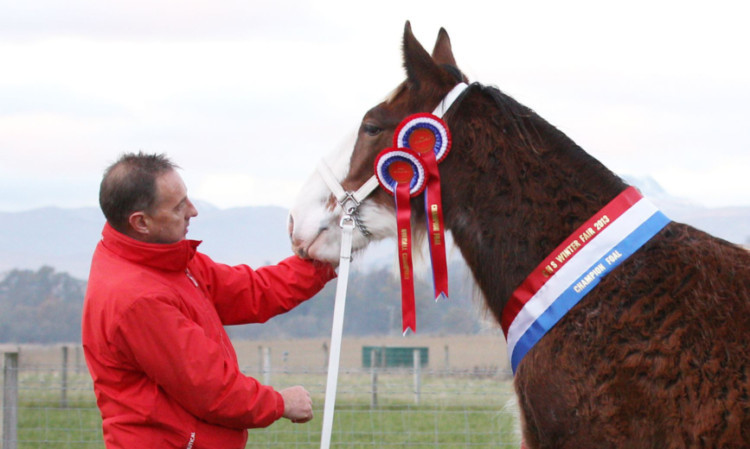 The superior standard of this year's crop of filly foals at the Clydesdale Winter Fair in Stirling eclipsed the senior entry of horses.
Taking his first- and second-placed senior fillies all the way from their class to the top of the foal championship and then on to stand at the pinnacle of the supreme, breed judge Peter Tennant Jr said the quality of all the filly foal entries made it "far harder for the seniors to compete".
Awarding the Peter Sharp Perpetual Challenge Trophy for overall Clydesdale exhibit to Arbroath property developer John Anderson's Redcastle Mhorita Millie, Mr Tennant said that the foal "oozed feminine characteristic".
"She has super bone, super hair and a cracking hind leg," he added.
Owned and home-bred by John at Drummygar Mains, Carmyllie, this was Millie's third supreme plaudit of the foal show season.
The April-born filly brings Canadian breeding to the fore in Scotland on both sides of her bloodlines – being sired by John's Cawdor Cup winning Canadian-bred stallion Redcastle Brelee Majestic, and as the first foal he has on the ground from Canadian mare Stonecroft Mhorita Jewel.
Bred by Maureen and Warren Kells, Mhorita Jewel first caught John's attention during a visit to Canada, when he saw heras a foal.
After buying the now five-year-old daughter of Westgate Ringleader as an un-shown yearling and importing her to Scotland, John briefly took her out to stand senior champion at Forfar Foals.
Only lightly shown since, she took the champion rosette at Fife at the age of two.
Following in her mother's successful footsteps, Redcastle Mhorita Millie this year made her show debut with a reserve female and reserve supreme at Aberdeen Clydesdale Show, was foal champion and overall winner of the Lanark Foal Show and, most recently, took the same overall plaudits from Lothian and Borders Foals.
Bridesmaid to Millie in the show season so far, the reserve supreme ticket marked the highest plaudit yet achieved by Ronnie Black's second-prized senior filly Fordelhill Lucinda.
Ronnie, a renowned Clydesdale breeder and former society president who runs the Collessie Stud from Newton of Collessie at Ladybank, bought the filly from her breeder Davy Greenhill, of nearby Leuchars Lodge, in August.
Also foaled in April, she was bred out of Fordelhill Lady Jenny-Anne and sired by Great American Ben Franklin one of many Clydesale stallions currently standing at Collessie.
Fordelhill Lucinda has stood second in her classes to Redcastle Mhorita Jewel at both Lothian and Borders and Kilmarnock shows, and collected a further second prize at Cupar.
With the fillies taking the top spots, another foal produced at Collessie progressed to stand overall male entry.
This was the previously un-named junior colt foal, sired by Collessie Stepping Stone, which has now been christened as Collessie Proclaimer by his new owner Rob Bedford, from Hartshead Hall Farm, in Liversedge, West Yorkshire.
This is the first Clydesdale to be purchased by Rob, a farrier, who runs around 24 Shires under the Hartcliff prefix south of the border with his father Richard all named to a musical theme.
Proclaimer, bred out of Collessie Julia, was reserve champion at Lanark and first at Lothian and Borders, Kilmarnock and Cupar foal shows.
Outwith the supreme placings, Mr Tennant gave the nod to Charlotte Young, from Hall Farm, Ayr,by awarding the senior championship to her three-year-old filly, Forneth Lucky Daisy.
Bred in Blairgowrie by Donnie Laing from Blueton Princess and sired by Collessie Whinhill President, she was the champion of champions at Wigtown, champion at Stranraer, reserve at Kittochside and second at Aberdeen this year.
Reserve senior went to Lanark's Jim and Linzi Kennedy, with their home-bred two-year-old Hillhouse Zara.
The daughter of Collessie Cut Above and Hillhouse Millie was, this season, champion at both Peebles and Strathaven, and stood reserve at Carnwath.
Results
Three years and over: 1 C Young, Forneth Lucky Daisy; 2 RH Black, Ardoch Lady Margaret; 3 Captain J Anderson, West Glen New Dawn.
Two-year-old: 1 J&L Kennedy, Hillhouse Zara; 2 R Sibbald and M Dawson, Thorn Lady Poppy; 3 D Combe, Windyknowe Chloe.
Yearling filly: 1 Mrs Rimmer and R Sibbald, Shielhill Diamond Jubilee; 2 P&M Bedford, Bratwell Lady of the Brae; 3 C Young, Downhill Heather II.
Senior colt foal: 1 RH Black, Collessie Angus; 2 CW Carrick, un-named by Jackton's Discovery; 3 McFadyen Contractors, Whinhill Majestic.
Senior filly foal: 1 J Anderson, Redcastle Mhorita Millie; 2 RH Black, Fordelhill Lucinda; 3 R Brewster, Bandirran Miss Channel.
Junior colt: 1 RH Black and R Bedford, Collessie Proclaimer; 2 K Wilson, Blueton Braveheart; 3 R Ramsay, Holmshead Jack.
Junior filly foal: 1 S Aitken, Newton Glens Kara; 2 R Brewster, Bandirran Lady Christina; 3 Thomas Clark & Sons, Muirton Mary Rose.